MultiSafepay Shopware 6 Plugin
Easily accept payments through our custom-built Shopware 6 plugin. Over 35 payment methods through one contract.
Connect your Shopware 6 webshop
Looking to accept and process payments swiftly in your Shopware 6 webshop? We've got what you're looking for.

Through MultiSafepay, you can easily accept a variety of payment methods, such as local payments like iDeal or Bancontact, but also popular international methods, like Apple Pay, PayPal, or Alipay.
After signing up, you can accept payments in no-time.

Enjoy a pricing model that matches your business, the latest conversion enhancing features, and extensive reporting and invoicing tools.

Download our free MultiSafepay Shopware plugin and get started right away.
Free app, no startup or monthly costs

Access the MultiSafepay Dashboard and MultiSafepay app for free

Style your communications to match your branding

Flexible reporting integrations and features

In-house risk and fraud monitoring

Accept and process payments in various currencies through our multi-currency feature
Shopware 6 specific features
80% code coverage
Our integration maintains 80% code coverage. By ensuring this level of automatic testing you gain access to new features faster, provide a steady user experience to the end-user and can enjoy a product with outstanding quality overall.
Embedded credit card payments
Fully integrate the payment process for creditcards into your checkout. Keep your customers on-site and create a streamlined payment experience, increasing your checkout conversion.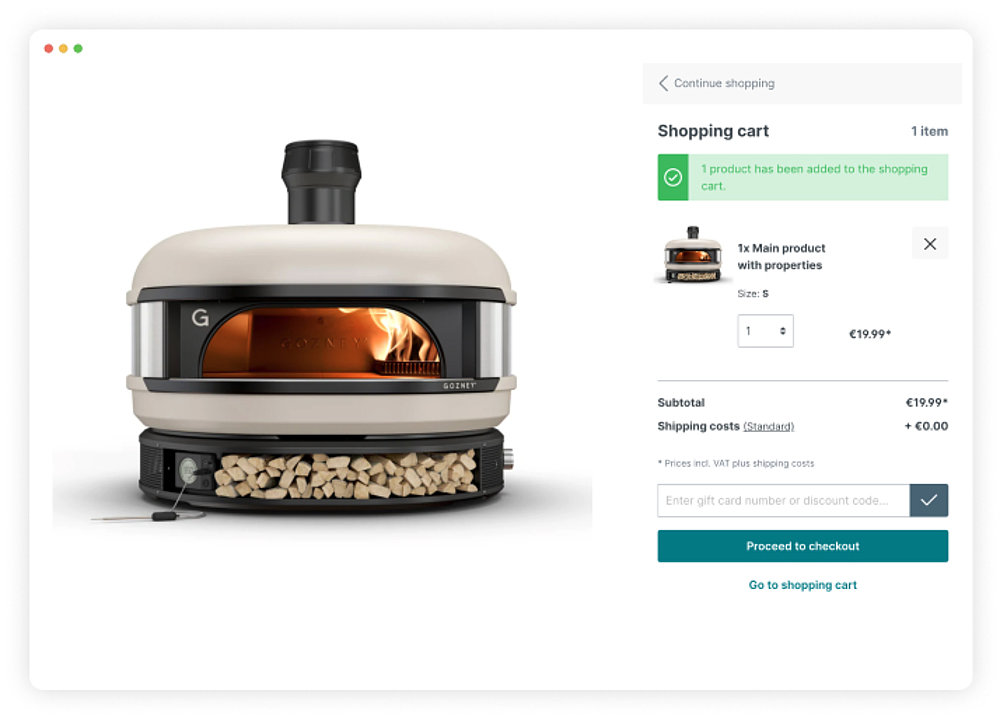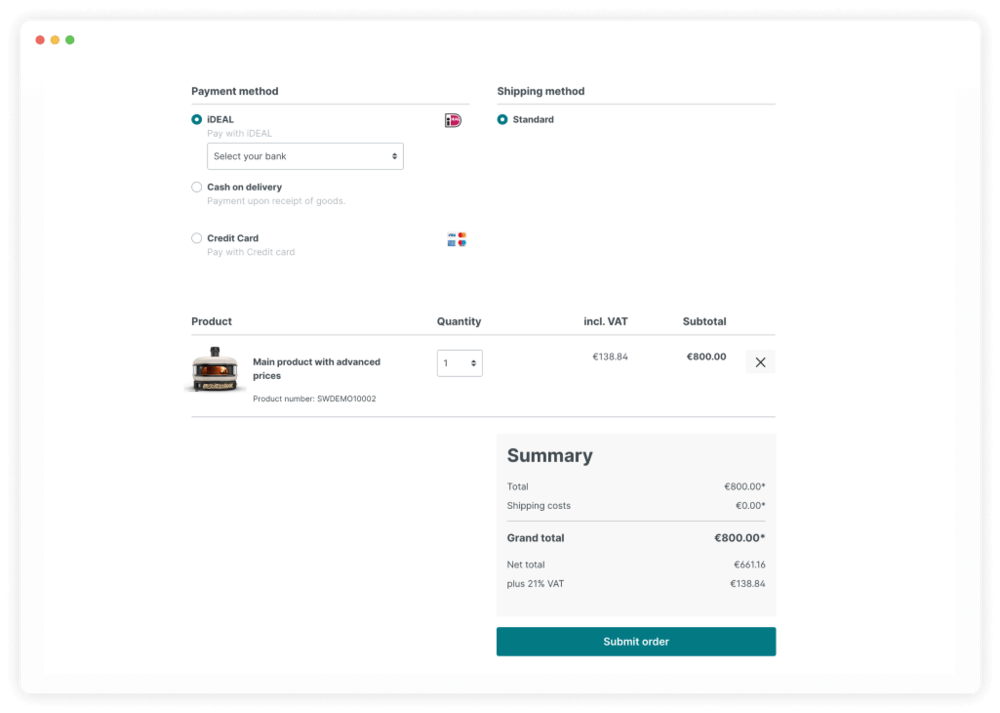 After carefully weighing our options for our new webshop, we chose to go for Shopware 6.
deltastar
MultiSafepay Dashboard and APP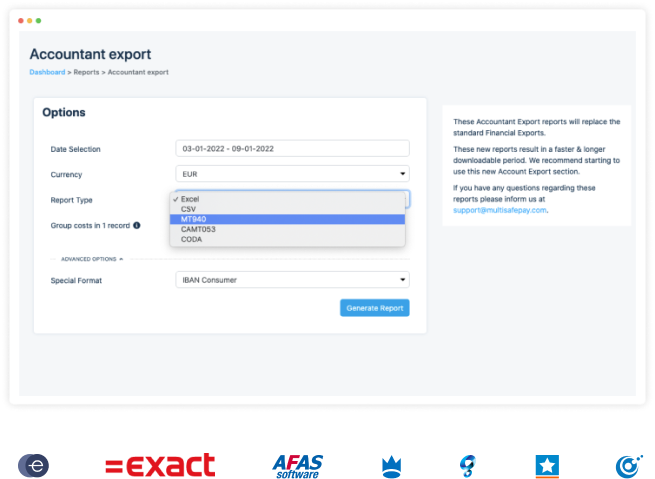 As a MultiSafepay merchant, you will get direct access to the MultiSafepay app and dashboard. This will give you instant access to your online transactions anywhere, anytime from now on, and a better picture of your business.
Link your transactions to your accounting application
Easily export your transactions to popular accounting programs such as Exact, King, AFAS or SnelStart in CODA, MT940 or CAMT053.
Get insight into your transactions
Our dashboard gives you comprehensive insights and data on how your business is developing. Look at your year-on-year reports and get a clear picture of your business at a glance.
Frequently asked questions
Which payment methods does Shopware include?
Cards: All, Banking methods: All, BNPL: All, Wallets: Alipay, Apple Pay, PayPal
Prepaid cards: Beauty and Wellness gift card, Boekenbon, Fashioncheque Fashion gift card Fietsenbon Gezondheidsbon Good4fun Nationale tuinbon Parfumcadeaukaart Paysafecard Podium Sport en Fit VVV gift card Webshop gift card Wellness gift card Wijncadeau Winkelcheque Yourgift
Where can i download the MultiSafepay Shopware plugin?
You can download it from our own Git or you can download it from the Shopware store.
Do you support generic gateways?
Yes, our plugin supports generic gateways, which redirect customers from your checkout to a MultiSafepay payment page. This is particularly useful for integrating gift cards.
Can I embed payment methods into my checkout?
You can embed our payment component into your checkout, boosting your conversion. For more information, please check out our dedicated page.
Start accepting local and international payment methods with our Shopware 6 plugin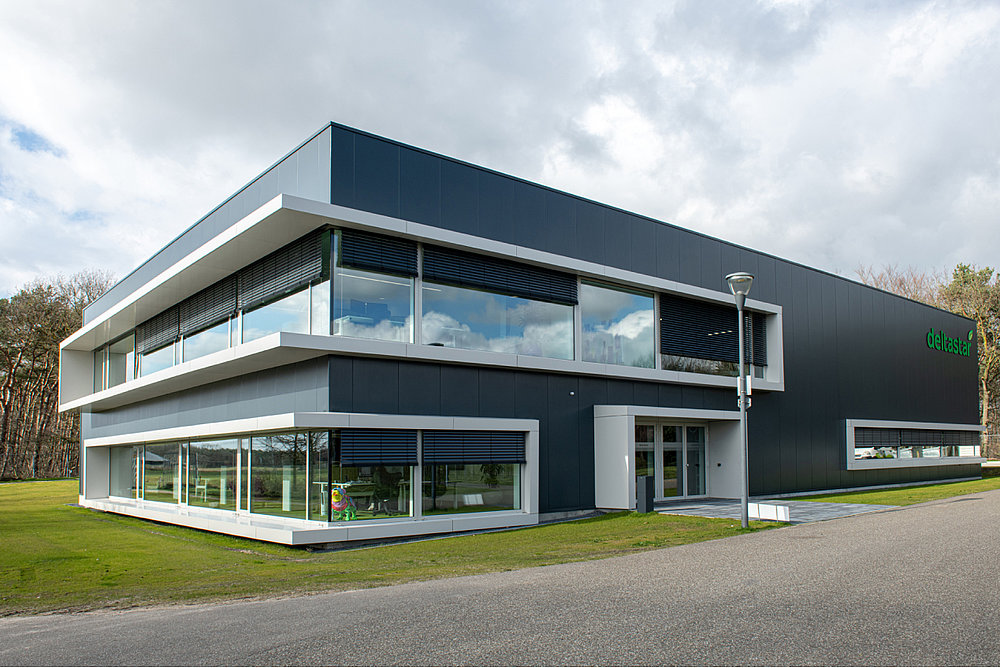 We're elated so far about the user friendliness and robustness of the platform."

deltastar
The right tools
Customer acquisition is just the beginning. Increase your conversion rate with our payment features such as Second Chance, one-click payments, and embedded checkout solutions.
Carefree payments
As a collecting Payment Service Provider, you can rest easy knowing we will take care of the entire payment process. From the agreements to the technical details, to the payment collections - we've got you covered.
Dedicated partnership
Our account managers are always available to help you. Through a pro-active approach, we believe that we can help each other succeed. By being inquisitive and solving problems, we'll remove barriers for you.