Simplify your business
Improve accuracy and efficiency by automating your accounting, reporting, and reconciliation processes. Manage your payments and gain insight into detailed reports through your MultiSafepay dashboard.
You can also retrieve all payment data via our API into your own ERP or data lake.
Save time spent on spreadsheets, reduce the chances of manual errors, and start profiting through our automated accounting procedures.
Optimize the payment experience
Our invoicing payment procedure is fully optimized for mobile, tablet, and desktop devices. Ensure a swift and simple payment process.
Get started
Accounting made easy. Our invoices are easily generated, styled and sent from your MultiSafepay dashboard, no coding involved.
Reports
Knowledge is power. Our advanced reports give you valuable insights into your business. Allowing you to capitalize on trends and build your business.

Generate a range of reports to zoom in on different aspects. Find out who your customers are, what payment methods they prefer, and what devices they're using.

Everything you need to enhance your business.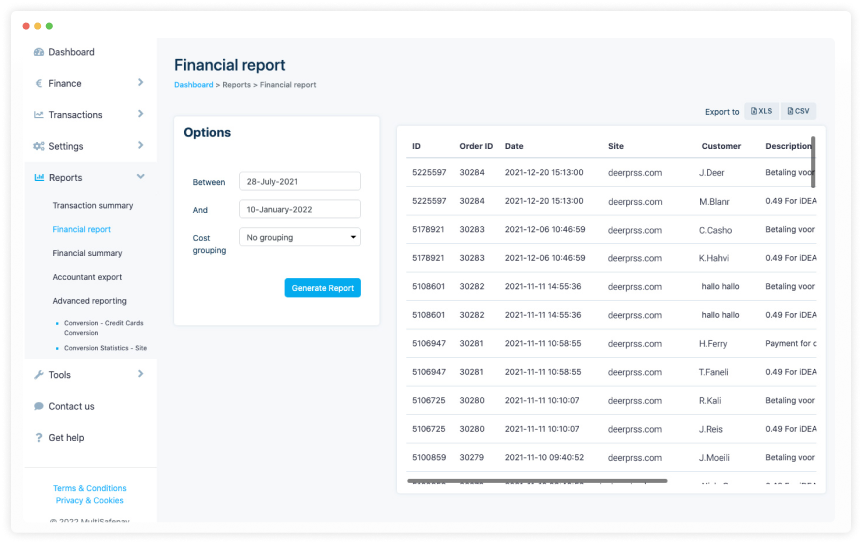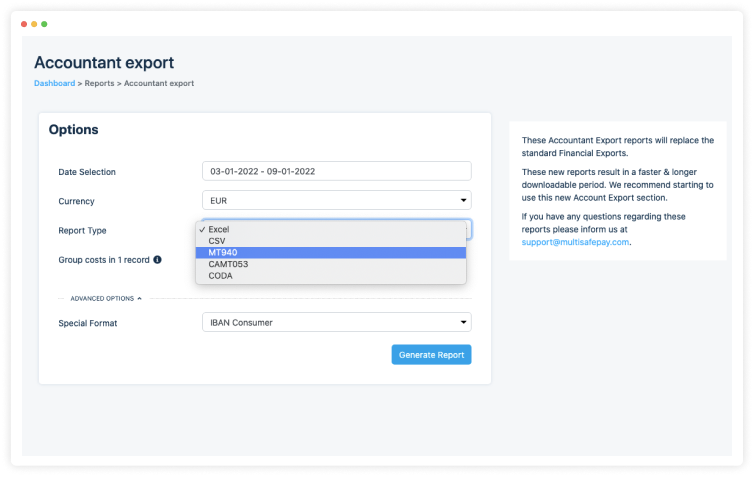 Accounting
A range of plugins enable you to connect to the accounting solution of your choice.

You'll be able to easily generate accounting exports in various formats, such as CODA, MT940 or CAMT053, depending on the integration.

For a full overview of our integration options, visit the MultiSafepay Docs.

Schedule reports
Drive efficiency through automation
Once you've established the reports are most relevant to your business, you can easily automate the generation and access them all in your MultiSafepay account.
Schedule reports for consistent updates on and insights into your business, maximizing your efficiency.

SFTP
Optimal security for your reports
To keep your data as safe as possible, our reports are sent using SFTP, maximizing the protection of your data.
Automating your reports can be done through a push or pull request, both of which are highly safe.
API
Our API lets you automate your accounting workflow. Easily retrieve details about transactions and automate payment matching and reconciliation. Take in the big picture or filter to change focus.
Easily configured in a single request.