MultiSafepay
Lightspeed app
Easily accept payments through our custom-built Lightspeed app. Over 35 payment methods through one contract.
Connect your Lightspeed webshop and start receiving payments
Looking to accept and process payments swiftly in your Lightspeed webshop? We've got just the thing.
Through MultiSafepay, you can easily accept a variety of payment methods, such as local payments like iDeal or Bancontact, but also popular international methods, like Apple Pay, PayPal, or Alipay.
After signing up, you can accept payments in no-time.
Enjoy a pricing model that matches your business, the latest conversion enhancing features, and extensive reporting and invoicing tools.
Download our free MultiSafepay Lightspeed app and get started right away.
Free app, no startup or monthly costs
Access the MultiSafepay Dashboard and MultiSafepay app for free
Style your communications to match your branding
Flexible reporting integrations and features
In-house risk and fraud monitoring
Accept and process payments in various currencies through our multi-currency feature
Lightspeed specific features
Display the payment methods in the footer
The standard Lightspeed app doesn't show payment methods in the footer. We know that this is a great tool to boost conversion, so we've written a script to make it possible. Through our script, you can easily add and style payment icons in your footer, providing your customers with that instant recognition of their desired payment method.
Payment components
Fully integrate the payment process into your checkout. Our component is stocked with smart features and solutions, aiming to create a streamlined payment experience for your customers.
For example, we automatically detect which credit card is being entered and display the correct brand.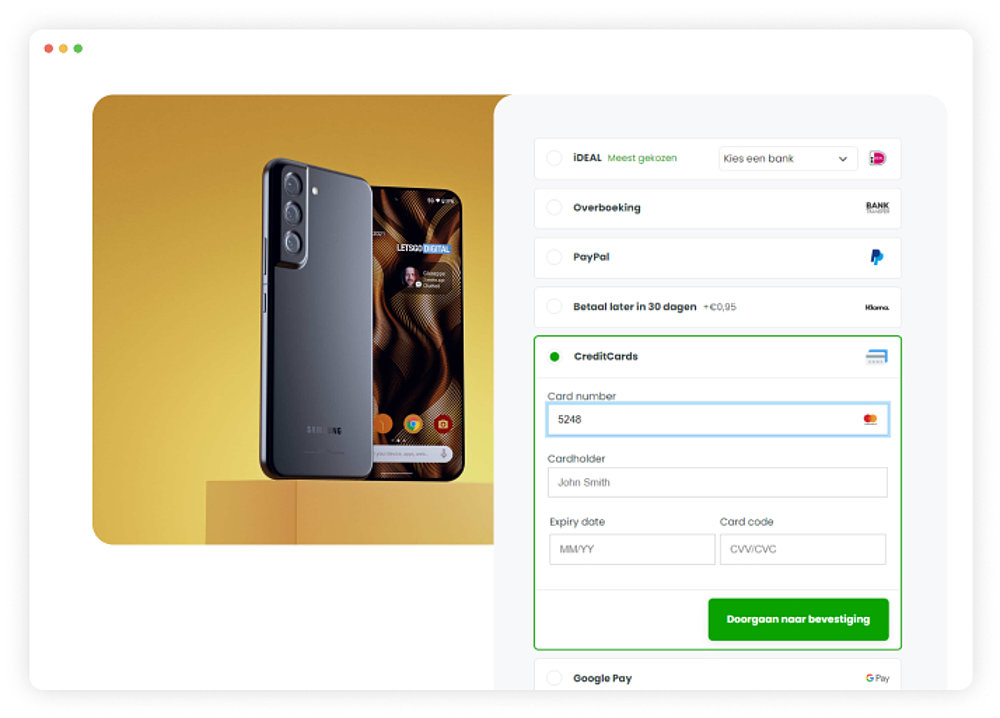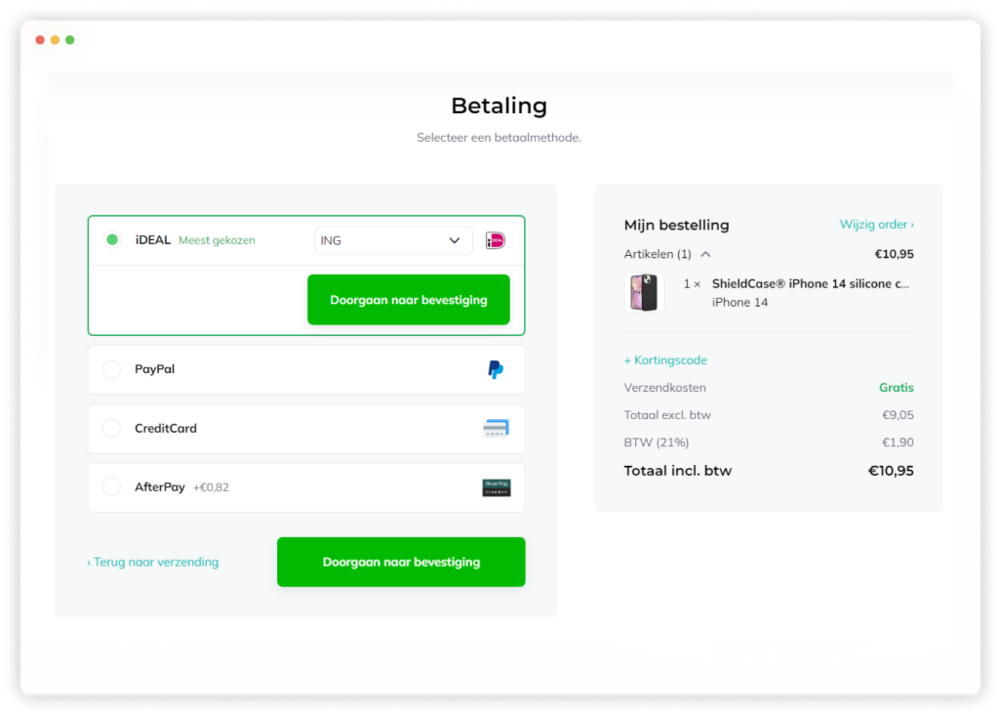 DMWS & MultiSafepay
By being a preferred partner for DMWS, you can easily add us as your payment service provider. The smooth multi-step checkout that DMWS provides guides your user to the payment phase - where we ensure your customer is served with the right payment method.
MultiSafepay Dashboard and APP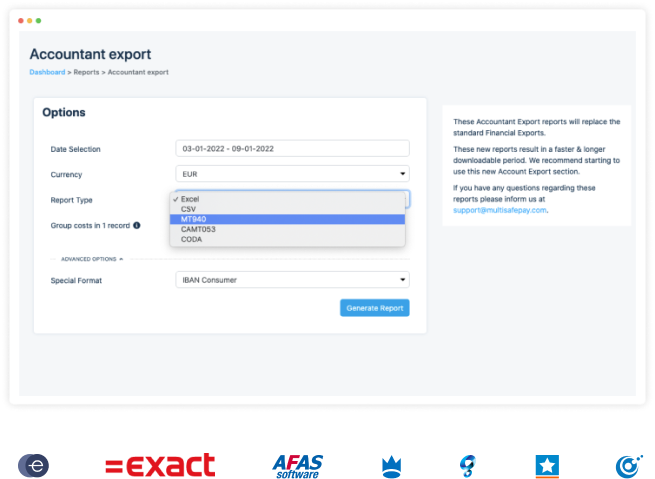 As a MultiSafepay merchant, you will get direct access to the MultiSafepay app and dashboard. This will give you instant access to your online transactions anywhere, anytime from now on, and a better picture of your business.
Link your transactions to your accounting application
Easily export your transactions to popular accounting programs such as Exact, King, AFAS or SnelStart in CODA, MT940 or CAMT053.
Get insight into your transactions
Our dashboard gives you comprehensive insights and data on how your business is developing. Look at your year-on-year reports and get a clear picture of your business at a glance.
F.A.Q.
Can I add payment logo's to my footer?
Normally in Lightspeed you can't, but we've written a script for this. Please check out our Docs page to discover how.
Is the Lightspeed plugin available in English?
Yes our plugin is available in English.
Can I refund orders through the MultiSafepay Lightspeed app?
We offer both full and partial refunds in our Lightspeed app. You can perform them from your MultiSafepay dashboard and backend.
Do I need to manually update my app?
No, we will automatically update your app to receive the latest updates and features.
Accept local and international payment methods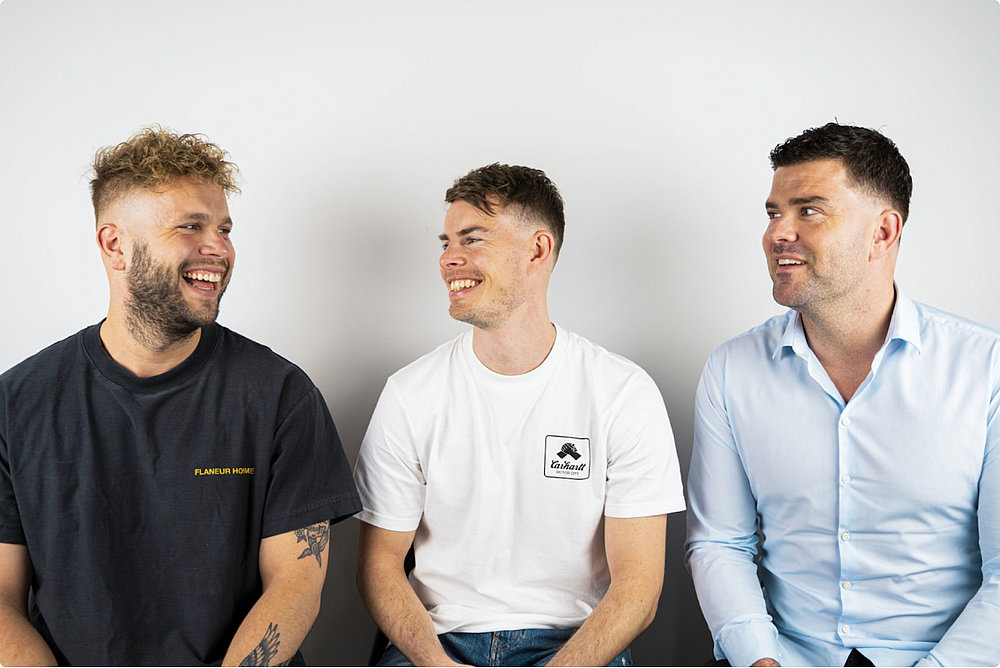 The real difference with MultiSafepay has been the dedicated personal service. Jasper Bos helped us onboard, and usually, after onboarding, you get forwarded to another person, but ever since we've been at MultiSafepay, he's been our go-to guy for everything we need. It helps establish short communication lines, and it's pleasant to work with.
Bart Latenstein
Managing Director @ Phone-Factory.nl
The right tools
Customer acquisition is just the beginning. Increase your conversion rate with our payment features such as Second Chance, one-click payments, and embedded checkout solutions.
Carefree payments
As a collecting Payment Service Provider, you can rest easy knowing we will take care of the entire payment process. From the agreements to the technical details, to the payment collections - we've got you covered.
Dedicated partnership
Our account managers are always available to help you. Through a pro-active approach, we believe that we can help each other succeed. By being inquisitive and solving problems, we'll remove barriers for you.