How Pharmacius uses digital wallets to boost their checkout conversion and user experience
Right from the start, these two were a perfect match. Arantxa, a pharmacist with several pharmacies in Alicante, and Nacho, an expert in Marketing and Advertising. Together, they knew how to start up and scale their business in a competitive sector such as the pharma sector.
In 2018 there was a change of shareholders at Pharmacius and Alvaro de la Maza took over the management.
Today Pharmacius is one of the largest Spanish ecommerce companies in the Pharma sector, and they show no signs of slowing down.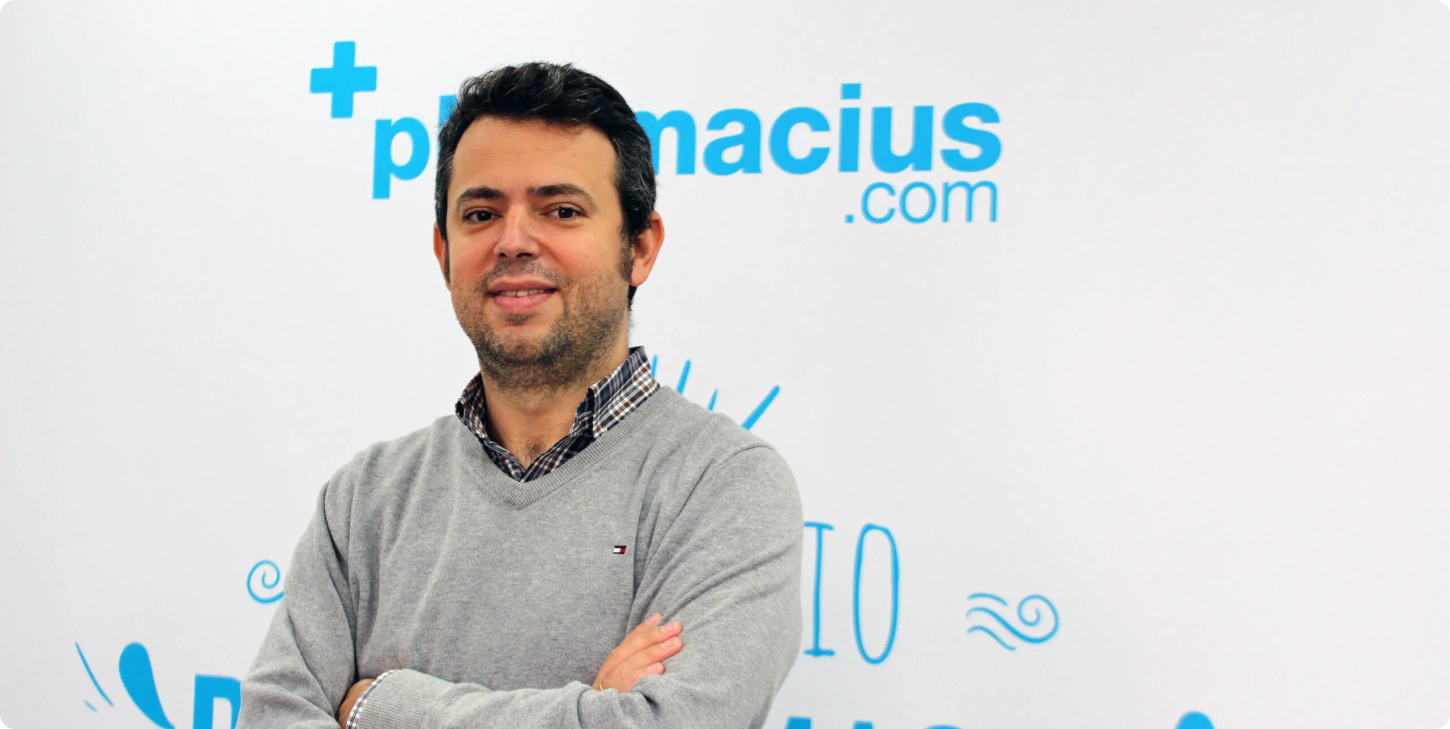 Álvaro, what do you think is the biggest challenge that Pharmacius has overcome since you started?
The biggest challenge has undoubtedly been for customers to recognize us as a supplier of quality products and services and to win their loyalty through this.
Their user experience with us borders on excellence. There is so much competition in the pharma sector, so what works best is to differentiate yourself in this way.
That's why we have a 4.77 out of 5 on TrustedShop.
The user experience is fundamental when it comes to differentiating yourself. There is so much competition in the pharma sector, so you must be excellent. This translates into a 4.77 out of 5 on TrustedShop for Pharmacius
What achievement are you most proud of at Pharmacius?
How our customers value our service.
We are totally focused on the user experience. It's not just about implementing upgrades, it's about people truly experiencing these improvements. Sales are a consequence of the way you treat people and the differential service you are able to give them.
For example, we work hard on the contact with people: we write handwritten notes on their orders, we try to be very close and friendly in our customer service. As for our website, we try hard to understand what they don't like, so we can improve.
That's why I'm so proud of that 4.77, because it's not the number, but all the effort behind it.
Sales are a consequence of the way you treat people and the differential service you offer them
How did you meet MultiSafepay?
I met you through Andrés Barreto, who introduced me to Manuel Mesa as part MultiSafepay commercial team. Manuel took over from Andrés (I hope Manuel doesn't get angry with me), and we started talking. I saw that we were on the same wavelength when it came to approaching the business as a payment provider and we started to negotiate.
You were looking to integrate Apple Pay and Google Pay in Pharmacius, why with MultiSafepay and not with other competitors?
For two simple reasons:
On one hand, because we saw the integration was easy to incorporate, and of course, it was simple, fast, and smooth, and on the other hand, because the fees were very competitive.
The truth is, MultiSafepay made everything very simple for us. You always been available to help us at any time.
What would you highlight about working with MultiSafepay?
MultiSafepay support service has been good, and the transactions with Apple Pay and Google Pay are frictionless.
That's the whole point, to make things easy.
With MultiSafepay, the performance is excellent, the fees are competitive, the integration is fast and frictionless, and the support service is brilliant
Álvaro, I've read in La Vanguardia that in 2021 you have increased your sales by 40%. That's 7.1 million euros more. In 2022, have you continued with this increase?
Yes, we have invoiced 11.2 million euros. Considering that this year has been complicated for the ecommerce market, we are so happy with the results, but we keep going! Our ambitions are high. Pharmacius is now planning the next step up to 2023.
In 2021, Pharmacius increase their sales by 7.1 million euros (+40%). 2022 is looking to be another successful year, with Pharmacius already invoicing 11.2 million euros
How did MultiSafepay Google and Apple Pay integrations help your business?
Google Pay & Apple Pay are responsible for 5% of the orders, and this will keep growing, as users find it more convenient than card payments, which in fact it is, and much more secure, due to tokenization and the way sensitive data is stored.
What role do you think m-commerce (mobile commerce) plays in Pharmacius?
A huge role! 40% of Pharmacius' sales are made through m-commerce. This is a trend that is going to persist, and in fact, it is already growing, and not only in the pharma sector.
You have recently got a round of funding of 1.5 million for Pharmacius future. Where does your future lie: expansion, internationalization, etc.?
Yes, internationalization is on the table, but it's not our priority at all. We are focused on upgrading our performance and technology, for example, the loading speed for our website. We aren't scared about Pharmacius internationalization. Likewise, we know how to do it, so when the time comes, we will do it in a big way, approaching several countries at the same time, but that will be later.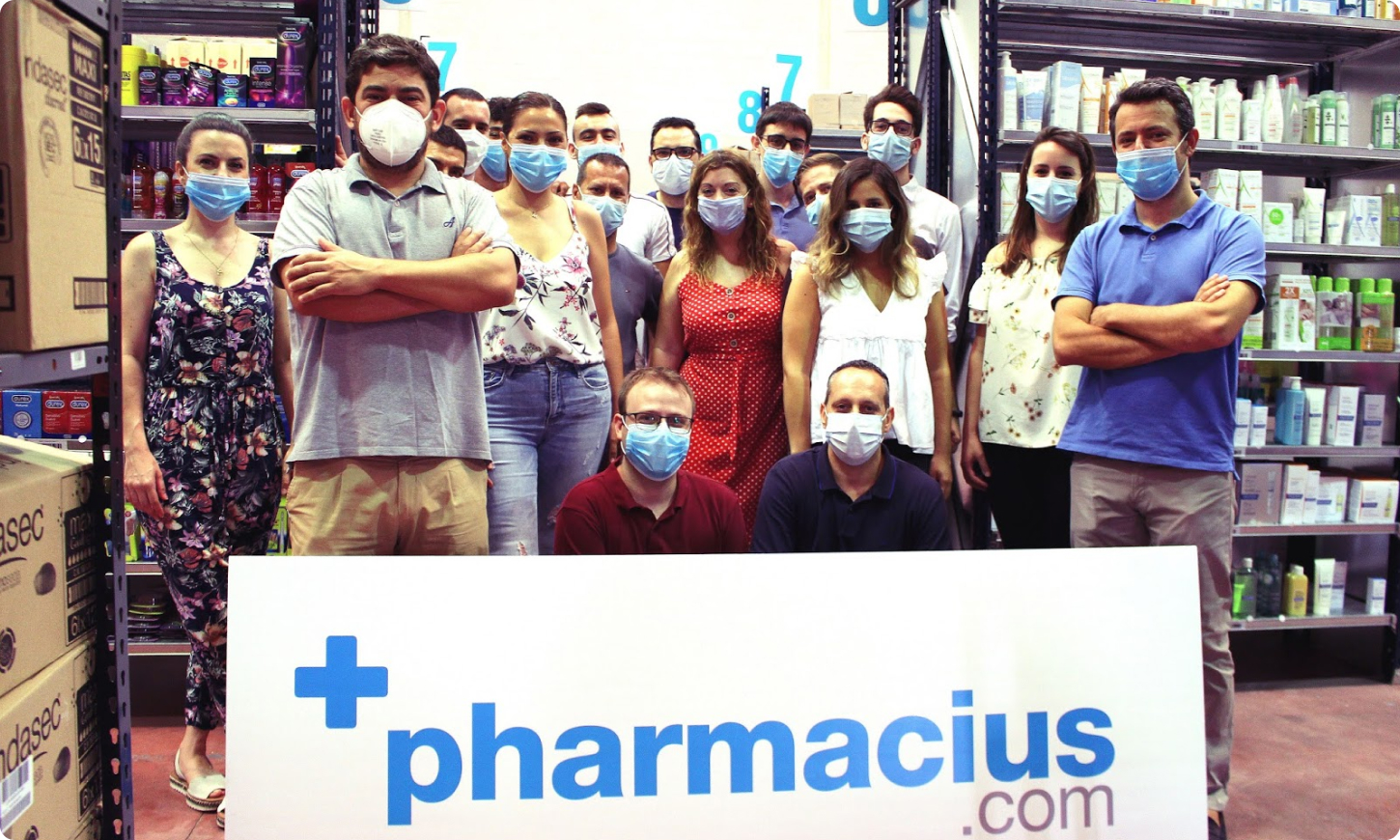 In your experience, what do you think is the main challenge for ecommerce in the pharma sector?
Well, the pharma sector is highly fragmented.
There are many pharmacies online, and this fragmentation generates a disproportionate price war, so the value of the products is depreciated.
Working in the pharma industry can't really be compared to working with exclusive products. There's so many product, differentiating yourself through the user experience is key, and ensuring that customers find everything they need on your website is also a part of it.
Also, our catalogue has 60,000 products that satisfy the needs of our users.
You must understand the demand very well and analyze the data. This is a part of the user experience too: catalogue, technology, delivery, good operations, etc.
A key part of creating a better user experience is also how payments are handled. Being with a payment partner that creates a frictionless, smooth payment process is important. MultiSafepay has helped us do that with Google Pay and Apple Pay.
All the improvements in the organization are translated into the user experience, and this is something that the customer perceives.
What advice would you give to someone starting out in the pharma sector or in the ecommerce world in general?
Depends on whether you manufacture your own products or trade with third-party products.
In the latter case, you will find yourself up against thousands of competitors, and you must have digital capacity, operational capacity, a multidisciplinary team, etc., otherwise forget about it. We work with very low benefit margins, and you must be competitive in many aspects.
If you make your own product, it's essential to study the market to make something that people demand. You also have to know how to put it on the market and how to scale it, otherwise it doesn't make sense.
Customer loyalty is fundamental, because customer acquisition costs money and you can't lose them along the way.
Did you enjoy this interview? Keep reading our Farmacia Bolli 1833 case study. An Italian ecommerce business with a lot to say about the pharma sector.
---
Ready to scale your pharma business?
At MultiSafepay, and thanks to all our experience as a payment service provider, we can help you by designing your own flexible, secure and frictionless payment system, so you can offer your customers an optimized shopping experience from start to finish.
More than 18,000 businesses have already placed their trust in us.