Acceptgiro to disappear from the Dutch payment landscape in June 2023
Acceptgiro in a nutshell
An Acceptgiro is a Dutch payment form that's provided with paper bills to simplify the payment process. The card contains the recipient's name and other parameters such as transaction ID and bank account number. The consumer can fill in this card and mail it to initiate an almost foolproof payment.
Why is it ending?
Currence, the product owner of Acceptgiro, has decided they will no longer support the product after June 1st, 2023. The main reason is that the amount of mailed Acceptgiro's has declined by over 70% in the past five years, and 90% of consumers choose to pay through the internet or mobile banking.
The Dutch Consumers Association has not objected to Currence phasing out this product, on the condition that they provide a valid alternative to the payment method, which is still highly popular among older or less internet-savvy consumers.

Acceptgiro alternatives
MultiSafepay offers several alternatives, per the Dutch Consumers Association:
Paper invoices

By providing a paper invoice that consumers can complete through online or mobile banking, the payment experience is similar to paying with an Acceptgiro. The only difference is that consumers must enter the payment data themselves in their banking environment, which can lead to manual errors.
A key tool in simplifying this process, and removing the chance of errors, is adding a QR code to the paper invoice. Once the consumers scan the QR, they're automatically sent to a secure payment environment with key data pre-filled.

Digital invoicing

Enabling consumers to pay through digital-only means has become the standard for many businesses. Providing an iDEAL payment link is sufficient for most Dutch consumers to take care of the payment.

Automatic invoicing

Another alternative is to collect the payment through SEPA Direct Debit. SEPA Direct Debit requires a one-time authorization, after which you can use it regularly to collect funds from consumers without requiring them to act. Consumers who are unfamiliar with internet banking can provide consent by paper.

The ultimate alternative: E-Invoicing x VIBAN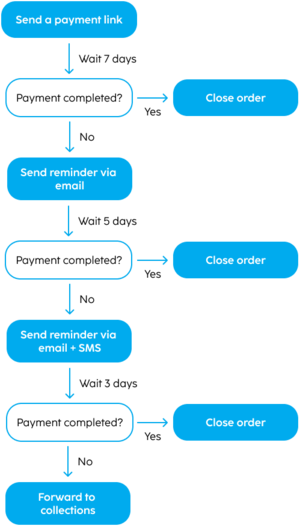 E-Invoicing: the complete invoicing solution
Luckily for MultiSafepay merchants, we already have an in-house solution perfectly suited to solve all challenges that the departure of Acceptgiro will introduce: E-Invoicing.
E-Invoicing is a much larger tool, which is capable of sending multi-channel communications, whether you're looking to replace your Acceptgiro communications with paper, email, or SMS, E-Invoicing is the answer.
You get access to all the Acceptgiro alternatives mentioned above, and through a yes/no flowchart you can set up collection and payment procedures from start to finish. These procedures can be simple with only a couple steps, or extensive with more than 10 steps, you decide.
Easy to set up and apply to your different customers, saving you tons of time and manual work.
Virtual IBAN: Match your payments
Imagine a customer tries to manually wire money to you, but they make a mistake in their order ID or payment reference. Normally, the number of transactions where this occurs is quite low, and we at MultiSafepay manually match these payments for you.
However, with Acceptgiro disappearing from the payment scene, we're foreseeing more mismatched payments by less tech-savvy consumers. The downside of us matching these payments is that you're unable to effectively manage those transactions or help your customers once they reach out about these payments.
If you activate a virtual IBAN, one of the many advantages is that you keep this process in your control. You'll gain access to many actions to manage unmatched payments in your MultiSafepay dashboard.
Keep control of your payments and ensure you can help your customers quickly and correctly.
---
Currently processing Acceptgiro payments?
We'll gladly discuss how we can help you simplify your payment collection post-Acceptgiro.
Reach out to our payment experts for a free consultancy about your options.