Introducing virtual IBAN - Say goodbye to customer confusion (VIBAN)
What's a virtual IBAN exactly?
The clue is in the name. A virtual IBAN is a virtual alternative to a regular IBAN and does not represent a bank account in a physical bank. One of the prerequisites of processing payments is that a payment service providers bank account always needs to be used. A virtual IBAN enables incoming payments to be routed to an alternative account that is linked to a physical bank. In this case, the bank account is in possession of the payment service provider. From the customer's perspective, nothing changes, they are just dealing with a normal bank account.
Improving the consumer experience and the brand recognition of our clients, are a top priority for us at MultiSafepay, and our implementation of virtual IBAN is the latest iteration of this aspiration.

What are the benefits for your business?
First of all, due to the fact that a virtual IBAN can be activated entirely in the digital space, set up and start-up are extremely fast - especially when compared to a normal bank account. This can be a great tool for processing payments abroad, as there are a lot fewer administrative issues to deal with.
At MultiSafepay, we use virtual IBANs for the following purposes:
Refunds
One of the best, practical uses of a virtual IBAN comes into play with refunds, something retailers are (unfortunately) all too familiar with. With the average return rate reaching up to 20-30% for some businesses, streamlining the process where possible is priceless in reducing pressure on other parts of your organization, such as the support desk.
Through a virtual IBAN, we can change the name issued on refunds to "Your name - by MultiSafepay". This makes it easy for customers to find potential refunds, and cuts down unnecessary questions asked.
Our client, The Little Green Bag, used virtual IBAN as a way of relieving their customer service department of unnecessary work.
As Charissa Jokhoe, Customer Operations Manager at The Little Green Bag says,
"After we had a significant increase in sales, we noticed our customer operations was getting a lot more questions and tickets about refunds. Mainly due to our clients having trouble locating their refunds in their banking environment. After the implementation of virtual IBAN, these requests stopped completely."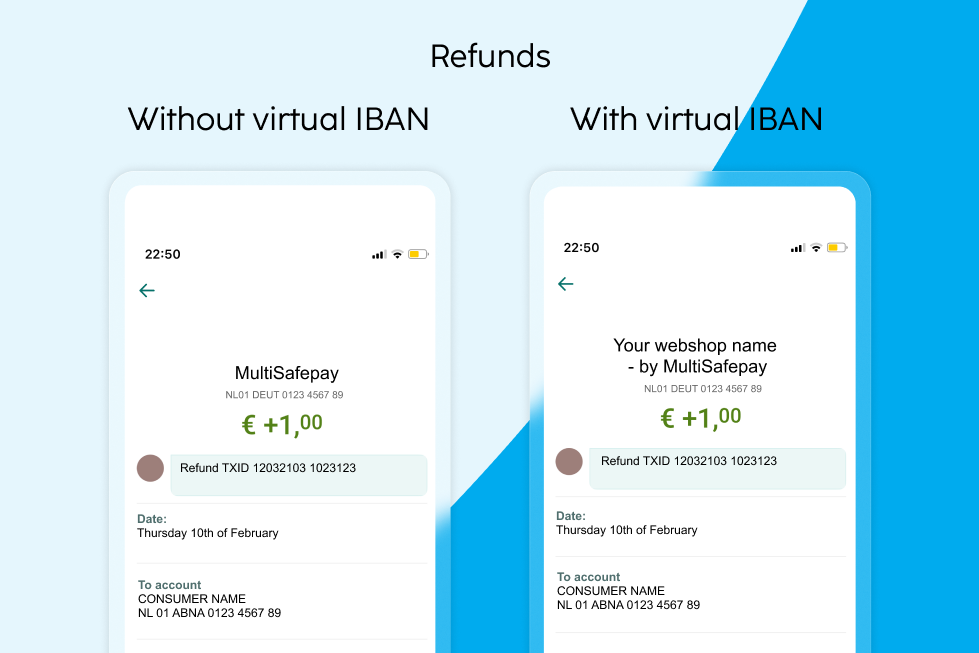 Payment collection
Besides refunds, we also enable this option for merchant-initiated transactions (often on a recurring basis). When collecting a SEPA Direct Debit payment, we use a virtual IBAN to display "Your name - by MultiSafepay" on the bank statement.
The benefit here is similar to the benefits with refunds, as it allows the consumer to find their associated transactions easily.
Matching payments
This specific usage of virtual IBAN is only relevant for companies that handle a lot of bank transfers, as this only comes into effect for customers who enter payment data incorrectly in a bank transfer (doesn't happen often with B2C transactions as most payment methods take care of this).
Normally, most incoming payments are automatically matched to the relevant order in your account. However, if a customer makes a mistake during the payment process, we match this payment manually.
Through a virtual IBAN, you keep this process in your own hands. With this functionality active, you can resolve unmatched payments easily in your MultiSafepay dashboard. A new section will be activated, allowing you to carry out a multitude of actions to manage unmatched payments.
Being able to match these payments yourself means you don't have to rely on MultiSafepay for this process, speeding up the overall procedure for you. This also aids in the reduction of customer queries, as unmatched payments are in your hands, meaning you can more effectively handle a potential request.

---
Need help reducing your customer queries?
We're more than happy to help.
Are you a MultiSafepay merchant?
We'll get virtual IBAN activated in no-time. Request activation below or contact your account manager.
Not with us yet?
No worries! Reach out and we'll get you sorted as soon as possible.