Get paid faster with E-Invoicing
The growing problem of outstanding invoices
All across the world, the COVID pandemic fueled all kinds of developments. Some of these have been good for ecommerce, while others haven't. One of these developments is the increasing number of invoices paid later than usual. Due to cash flow or inefficient invoicing procedures, many businesses and consumers pay late.
Atradius did some research in the United States, showing that from 2019 to 2020, there was a drastic increase in outstanding invoices of 72% (!). Across Europe, the average rate of unpaid invoices hovered around 20% up until March 2020. This rate rose drastically from March onwards (enter the COVID pandemic). Some countries, like the Netherlands, got off relatively easy, noticing only a 6% increase in outstanding invoices. Not all were so lucky, such as Italy, which saw their unpaid invoices rise by 60%!
What can you do?
A single tool or a solution will not reverse the effects of macro trends such as a pandemic. But you can ensure that your invoicing procedure optimizes the payment experience for the customer and simplifies the setup procedure for you.
There are many different ways of paying. B2C payments use various payment methods such as BNPL, credit cards, or direct banking, whereas businesses usually pay through a Net 30 or Net 60 postpay option.
With various preferences and suppliers, you must consider all these when setting up your invoicing procedure. Using different logic and timelines for multiple ways of paying means you must consider a lot. As a smaller business, we assume you don't want to spend your time on that.
How can we help you?
One of our core promises at MultiSafepay: we simplify your business. After a quick setup, our E-Invoicing solution will allow you to automate your operations and unburden you of all tedious processes related to your invoicing and reconciliation. Instead of manually setting your invoicing up from scratch, use our tools to set this up quickly with our no-code setup.
> Receive payments faster
The faster a correct invoice lands with the customer, the faster your customer can arrange the payment. You can include payment links in the invoices for direct payment options.

> Save time and money
Automation helps you create invoices fast and in a compliant way. By creating these documents faster, your business accelerates.


> Increase your productivity
Spend less time on tedious paperwork and spend time where you want to - on your business. E-Invoicing reduces the potential for human error by automatically generating and matching invoices for your system.

Automate your business operations and save time.


> Offer advanced payment options
E-Invoicing comes with a multitude of payment models. Whether you're looking to accept payment through net 30, installments, or net 60, we've accounted for all of them. Receive incorrect bank transfers often? We offer you the tools to efficiently match them.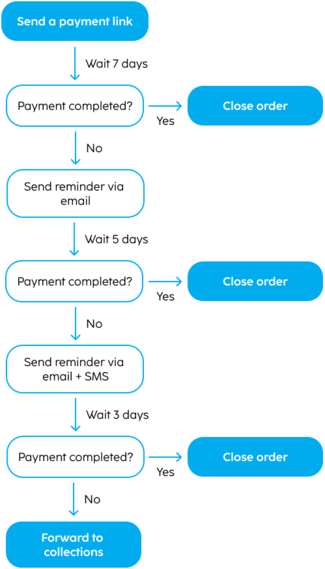 Dunning made easy
One of the biggest hurdles companies can overcome in streamlining their electronic invoicing is setup and maintenance. We've taken that to heart during the development of our solution, emphasizing the user experience and automating where possible. Easily create your own invoicing procedure through our drag and drop interface, which allows you to set actions based on different variables.
This example could be your invoicing system, which you can set up swiftly without any coding knowledge. Either start from scratch or build with our predesigned templates, E-Invoicing allows you to create the electronic invoicing process that matches your business perfectly.
Every payment model you need
In order to be applicable to as many different business types as possible, we've included every payment model you can think of. Whether you're looking at discounted payment terms (2/10 net30), pre-payments, partial shipments, multi-shipments, or installments, you'll find all of these and more in our powerful dunning flows.
Virtual IBAN - Streamline the customer experience
We use a virtual IBAN to ensure your name is always displayed on bank statements. This is especially valuable for refunds, as it makes it easy for the customer to locate you in their banking environment.
Handling of unmatched payments
While we offer an extensive range of payment methods through E-Invoicing, some customers are used to paying manually with bank transfers. Normally, we match these payments ourselves at MultiSafepay, but this means another link in the chain is added. With E-Invoicing, you take charge. We offer you an intuitive and powerful interface to match these payments directly to the right invoice.
---
Ready to save time? Let's talk
Reach out today to discuss how you can utilize E-invoicing to better your business. Our ecommerce experts are on standby to help you save time on these business operations.
Looking for more information? Dive into our product page and learn more about the various features.
Reach out nowVisit product page