Hyvä Checkout & MultiSafepay
MultiSafepay is the very first payment provider for Hyvä Checkout. Learn more about our integration and how it provides a smooth payment experience for Hyvä users.
Create a Hyvä account through MultiSafepay and receive up to € 500 discount on your Hyvä license.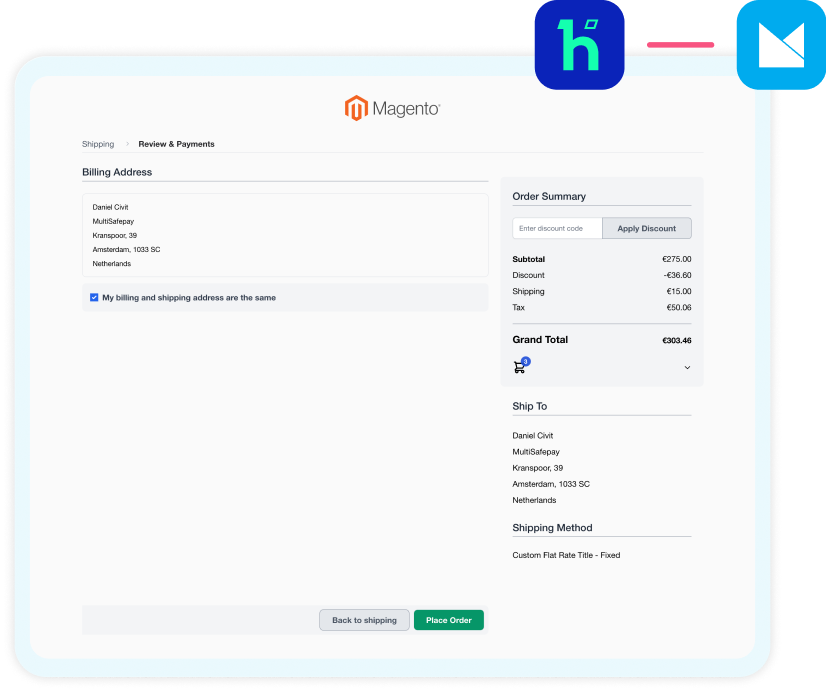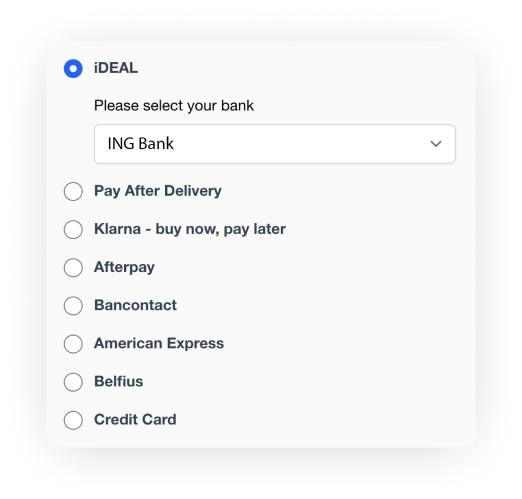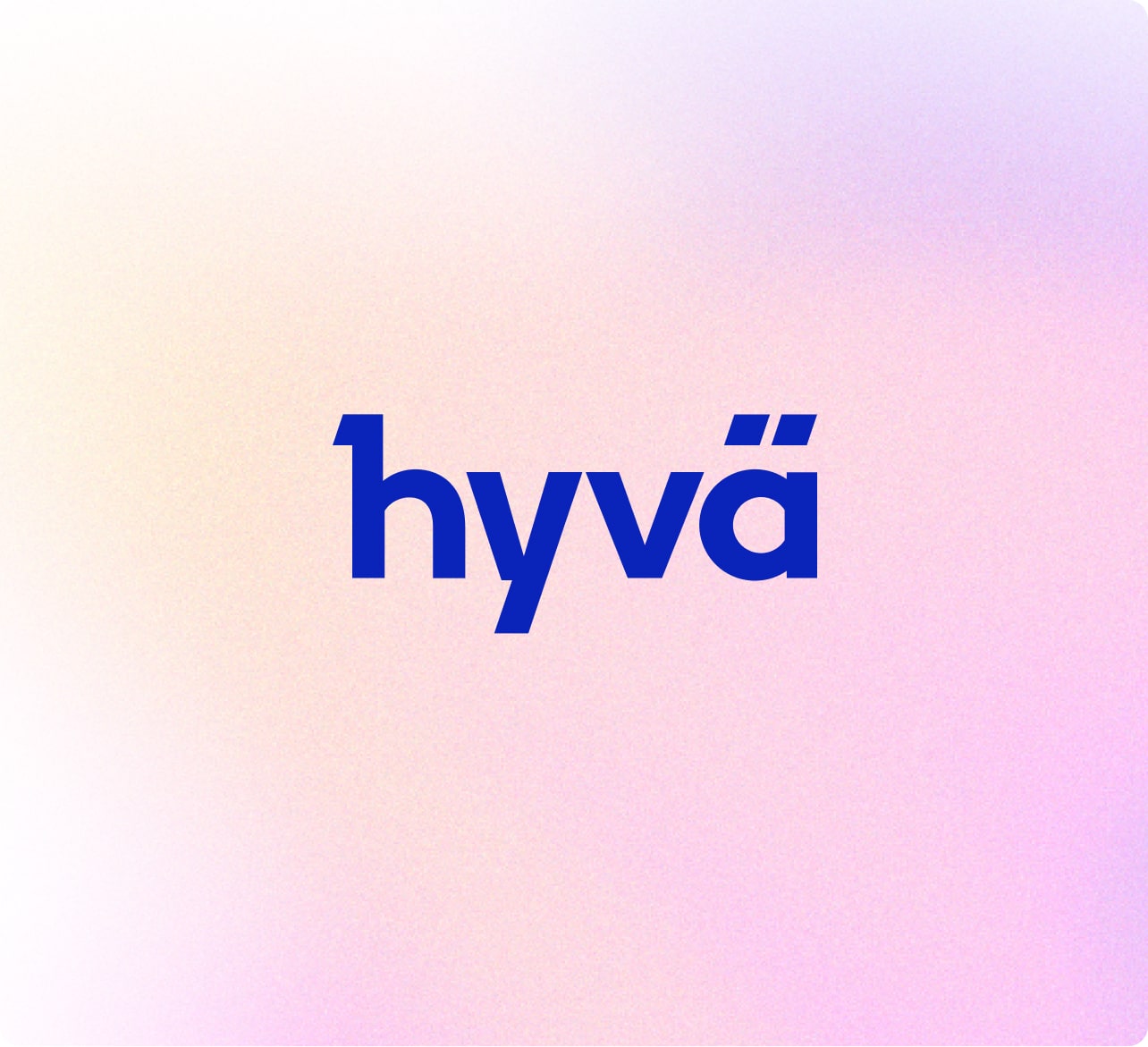 Thinking about using Hyvä Checkout?
Ready to take the next step? Hyvä Checkout might be just the thing.
This new Laravel Livewire port for Magento 2 once again creates an intuitive workflow for developers, all while remaining within the Magento ecosystem.

Our in-house developers have worked hard to ensure we're the first payment service provider to release a compatible payment module.
Through MultiSafepay, you can easily accept over 35 payment methods, such as local favorites like iDeal or Bancontact, and popular international methods like Apple Pay, PayPal, or Alipay.

Our pricing model is competitive and matches your business. You're sure to stay ahead of the competition through the latest features, extensive reporting, and invoicing tools.
Flexible reporting integrations and features
In-house risk and fraud monitoring
Accept and process payments in various currencies through our multi-currency feature
Free app, no startup or monthly costs
Access the MultiSafepay Dashboard and MultiSafepay app for free
Style your communications to match your branding
Wide range of payment methods
Our current integration offers our full range of redirected payment methods. Consumers will be sent from the checkout to our hosted payment page, where they select their payment method of choice and take care of business. We'll take care of all the updates and latest innovations in this payment space.

Easily display the payment methods in your preferred order, boosting checkout conversion.
More coming soon!
The Hyvä Checkout environment is still in a beta phase. As the first payment service provider to launch a Hyvä Checkout integration, we've got many more ecommerce innovations and features coming your way soon.

Stay tuned for what's next!





Key Hyvä Checkout advantages
We view Hyvä Checkout, and the other Hyvä themes, as the checkout that the default Magento Luma theme should have become. Hyvä Checkout is an alternative to PWA, freeing you from the Javascript-only web.
The result is a lightning-quick, easy-to-use checkout integration.
For merchants
Increased website speed
Hyvä Checkout is incredibly fast. Boost your SEO through its incredible page load time. Fast-loading pages keep visitors engaged.
Cost-efficiënt in the long run
Hyvä themes require a one-time investment. But in time you won't spend nearly as much on development costs. Hyvä Checkout gives you a sustainable alternative.
Boost your conversion
In connection to the fast page load speed, Hyvä Checkout is a key conversion booster. The faster the page loads, the better the chance of converting.
Faster time to market for new features
The reduced complexity for developers means faster rollout of innovations, which is essential for ecommerce companies.
For developers
Reduced complexity
By reducing the complexity of the frontend, the Hyvä Checkout is easy and more fun to work with. Your developers can do more in less time with Hyvä Checkout.
Easier to maintain
Hyvä Checkout is separated from the Magento frontend, which means you can update the Magento base without affecting the frontend.
Reduced dependencies
Hyvä Checkout is a Laravel Livewire port and only uses Tailwind CSS and Alpine.js libraries. These are great for improving the user experience.
Part of a growing community
The Hyvä community is continuously growing. Developers are happy to work with Hyvä, and being part of a growing movement is a good thing.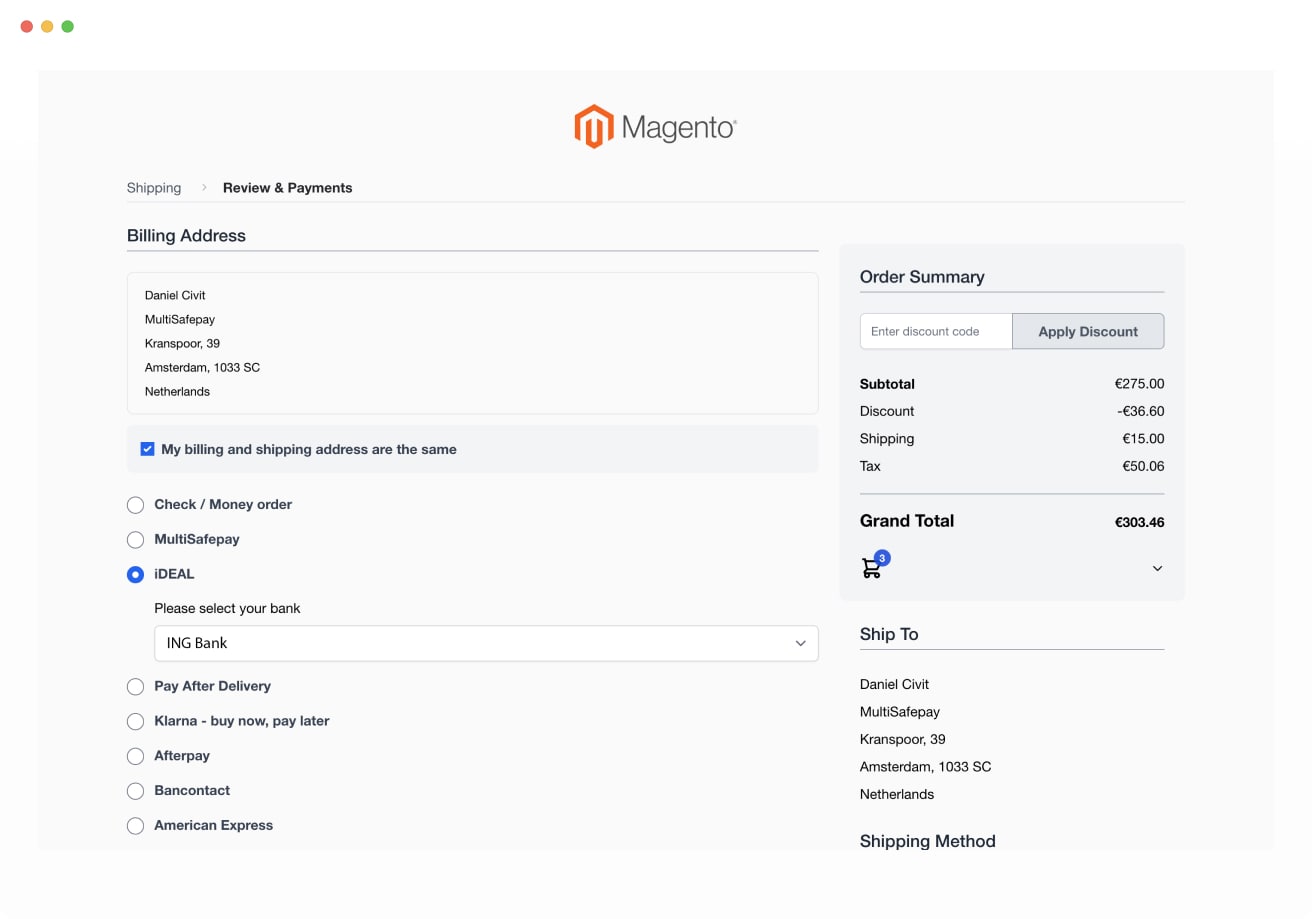 Hyvä & MultiSafepay
Hyvä has played a significant role in ecommerce in recent years. Working closely with Hyvä will ensure our merchants are at the forefront of innovation and can enjoy all the latest payment features and innovations.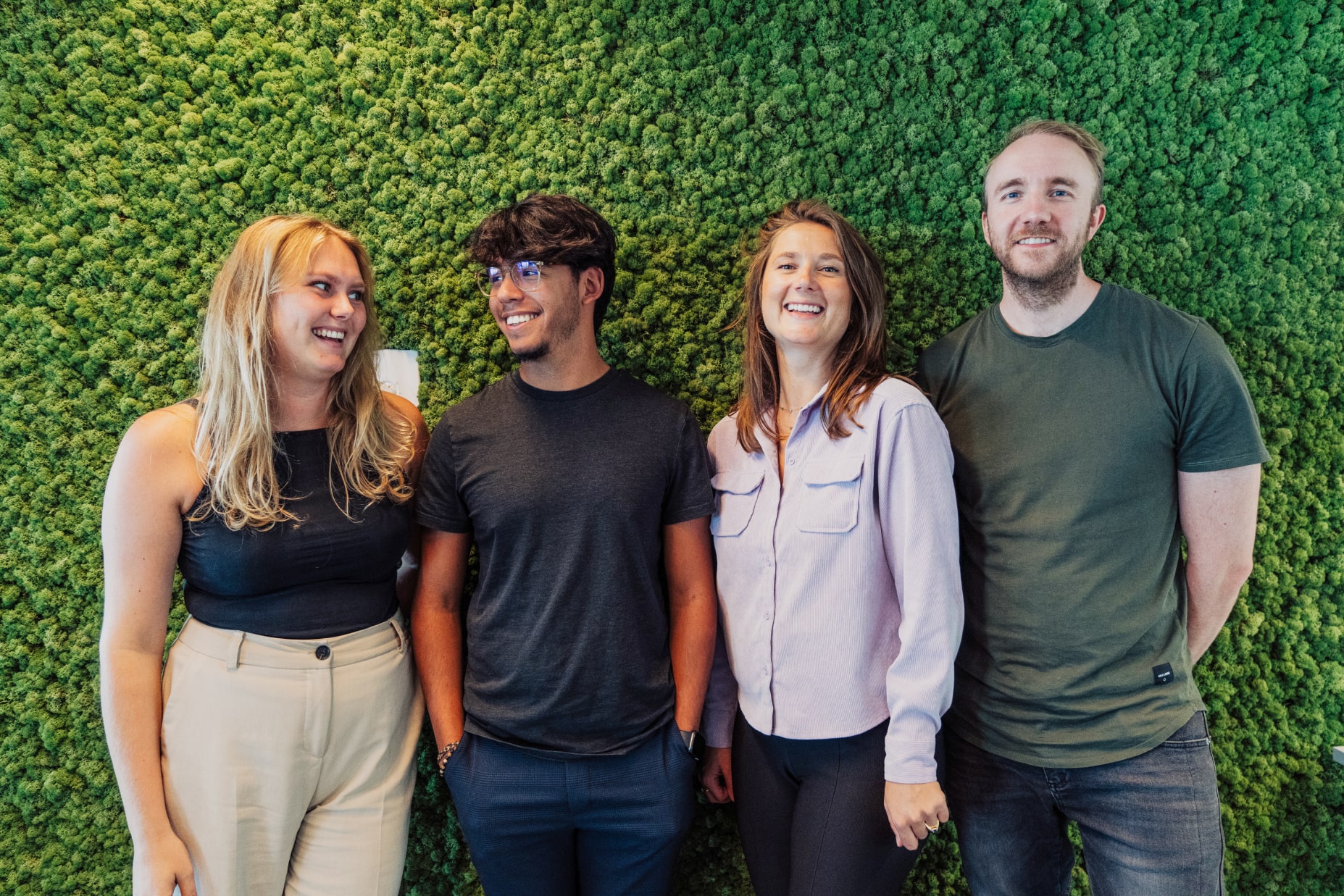 "Creating a better experience for consumers, but also developers, is very important. If a platform is easy to work with, over time more people will flock to it.
By creating a payment integration that works from the start, we want to help stimulate the growth of Hyvä Checkout."
Robin de Laater
Integration Developer @ MultiSafepay
Get started today
Our Hyvä Checkout integration is waiting.
Create a Hyvä account through MultiSafepay and receive € 500 discount on your Hyvä license.