Refine your payment collection
Create a sophisticated payment collection flow in no time with our intuitive drag-and-drop interface
Invoicing can be complicated and confusing, so most people would rather not spend much time on it. That doesn't make it any less important, but we have a solution for you.
During the development of E-invoicing, we've taken that to heart and focused on the user experience, simplifying the entire process for our users.
We've considered all kinds of collection flows and created the right scenarios for all of them. Using our intuitive drag-and-drop interface, you can easily set up your invoicing procedure for different flows. Watch your invoices get paid faster without user errors. If you're not too keen on coding yourself - no worries, use our pre-built templates or set up your flow through our drag-and-drop interface.

Maximize your payment conversion through the latest innovative solutions such as virtual IBAN and quickly build up multiple, corresponding collection flows with our Graph models.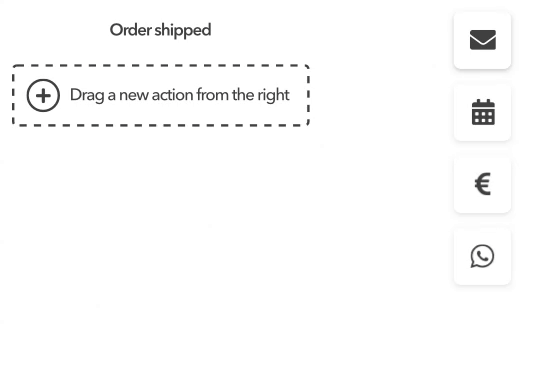 Endless possibilities
Leverage the power of graph models to allow for maximum flexibility and scalability, guiding your user through various flows.
Beyond 'if-then'
A condition-based approach that handles multiple intricate flows and scenarios.
Adapt on the fly
Our system uses active listeners to adapt.
Email failed to deliver? No problem! Automatic switch to SMS.
Get paid faster
Simplify the payment process for your customers. Offer them various digital payment methods to satisfy their bill whenever they please - all determined by you. Always ensure they pay the right amount, as the payments automatically apply rebates, discounts, refunds, cancellations, or late fees.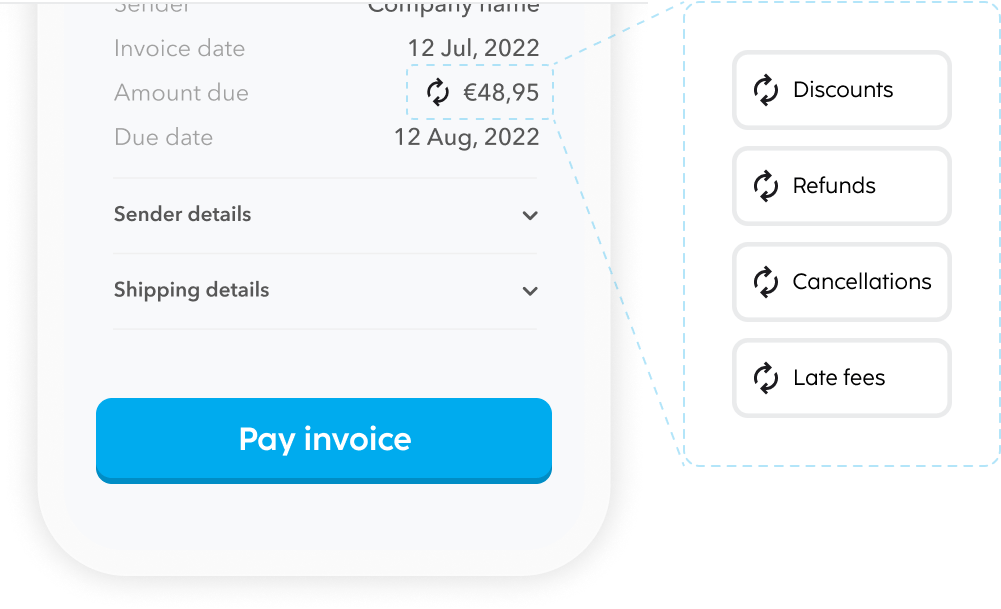 Eliminate manual errors
Minimize manual errors and keep your accounting scalable and reliable. As your business grows, your accounting becomes more complicated to keep up-to-date - especially if this is a manual procedure. E-invoicing directly integrates with your accounting and data systems, eliminating the potential for human error and automatically updating your reporting system.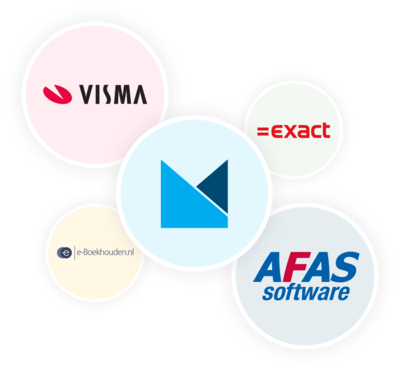 Be consistent with your brand messaging
Customize text, images, and style to your heart's desire, aligning your brand identity with all your automated communications. Use our intuitive tool to send different communications to your customers, such as email, SMS, or printed letters.

Refine your invoicing
The flow is simple when a customer pays their invoice instantly. However, things can get complicated when the payment is held off or (partially) refunded. Use our intuitive user interface to create various dunning flows (collection flows) that take different situations into account.
Example:
Your customer places an order with four items but chooses to send back two of those. You must then adapt the collection flow for the remaining items. Our E-invoicing takes that into account and helps you establish reliable procedures.

An integration type for every business
API Integration
End-to-end management, fully available within one API.

Reporting
Automatically create and sync daily transaction reports over our, or your, sFTP environment.
Debt collection
Leverage our network of debt collectors to automate the cases.
Notification framework
Real-time push notifications on all meaningful changes are sent directly to your infrastructure.
Accountancy
Daily reconciliation files supporting all major formats like CODA, MT940, or even custom reports to allow for transaction level reconciliation of all your money flows.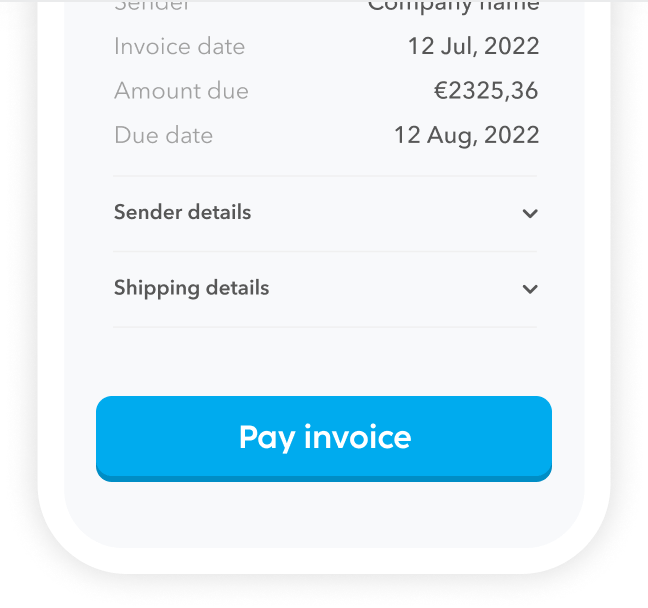 Billing, but your way
Your customers' needs are ever-changing, and the same goes for your payment options. Not staying up-to-date on the latest trends and options can be costly for your business. We've accounted for different payment methods and flows, ensuring that each relevant billing model is present within our payment solution.
Installments
Divide the order into three or four payments, with the initial payment due directly.
Recurring
Subscriptions and recurring transactions.
Multi-shipment
Split your order into different shipments and charge one account.
Discount flows
Early payment flows to improve cash flow.
Pre-payment
Start the payment plan off with a partial payment off the bat.
Partial shipment
Charge only for delivered goods.

Gebufa produces car mats in various shapes and sizes, from budget to high-end qualities. Servicing customers ranging from car companies, to construction markets and textile chains throughout Europe.
Challenge
Manually tracking invoices was a very time intensive process for Gebufa. This process was managed by an accountant, who needed to keep track of all invoices and follow up with all the customers, and check the bank account for paid invoices.
The manual management of the invoices also led to missing orders due to human error from all the different parties involved.
Solution
Through E-invoicing, MultiSafepay enables the accountant to create invoices that are tied to unique payment flows. Payment links are added into the system from Gebufa's administration, and reminders are automatically sent when invoices are left unpaid. The integration into the financial systems create a simple and always up-to-date overview of the current payment status.
Ready to streamline your invoicing procedures?
Simplify the way you process payments through our smart solutions.
Contact our ecommerce experts for a free consultation or demo.