Pay in Installments payments in your webshop
Get started today and easily integrate Pay in Installments using our custom built plugins and API. No start-up costs.
Our solution - your customer journey
As one of our MultiSafepay exclusives, Pay After Delivery allows your customers to choose their preferred method of post-payment.
Payment for you is guaranteed, meaning we'll assume the risk and collection of payment. Pay After Delivery also gives you access to partial shipping, and our 2022 overhaul features an improved risk assessment and fraud analysis, reducing the risk of non-payment while resulting in more acceptances and faster payments overall.
On top of that, our BNPL product is created with our merchants in mind. Throughout the entire customer journey, you're always in control of valuable data. As MultiSafepay collects the payments, payout for you is guaranteed.
Pay in installments - Raise your order value
The success of Buy Now, Pay Later is tied to customers spending more when they don't have to pay right away. While Pay in 14 is excellent for fashion retailers, it doesn't always cover your needs when you're offering something that's a higher value. That's where installments come in.
Installments take the entire order amount and split it into three equal terms, which have to be paid within 60 days. This essentially gives your customer a way to finance a larger order amount, or just split the payment in more manageable bites. It also allows you to present high product values in a better way.
Countries:
Netherlands
Currencies:
Euro
Pay in Installments features:
Discounts
Full, partial, and API refunds
Partial shipment
Customer benefits:
After initial 33% payment, receive the product before paying the remainder
Split larger amounts into three terms
Optimized for mobile
Merchant benefits:
Guaranteed payouts
MultiSafepay credit check
Keep full control of the customer journey
All your BNPL needs through one provider
How Pay in Installments works
Step 1
The customer selects Pay in Installments at checkout and is redirected to a MultiSafepay payment page.
Step 2
They agree with the terms and conditions.
Step 3
We perform a soft credit check and authorize the payment.
Step 4
You ship the order and inform MultiSafepay.
Step 5
We invoice the customer. You are now guaranteed settlement!
Step 6
We settle the funds in your MultiSafepay account after the payout term has expired.
Receive Pay in Installments payments through Multisafepay
No start-up costs
More than 30 local and international payment methods under one contract
In-house development with excellent tech support
We offer the following integration options: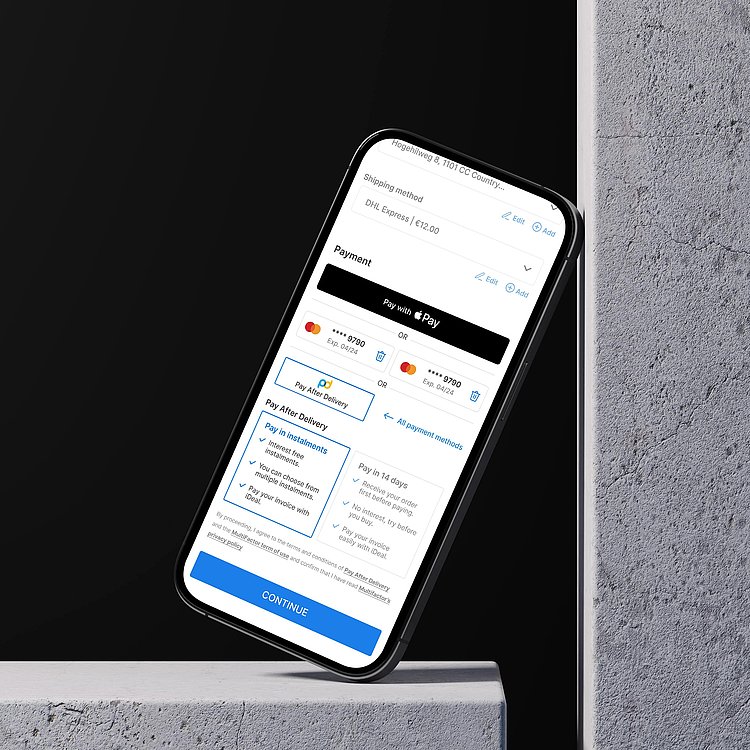 By offering both Pay After Delivery options in your checkout, you can create a refined Buy Now, Pay Later experience for your customers. Give them control over the way they pay and boost your conversion."
Related news and articles