MultiSafepay helps Phone-Factory.nl expand internationally with innovative checkout solutions
The journey of Phone-Factory.nl - In a nutshell
As mentioned, Phone-Factory.nl once started small - as a side gig for entrepreneurs and best friends Bart, Jan Willem, and Jeffrey. In 2014, Bart and Jan Willem started their digital adventure as a school project, selling various phone-related gadgets outside their working hours. Their base of operation? Bart's bedroom.
So the phrase from humble beginnings applies. What initially started as a school project turned into a job next to their studies and soon would turn into a full-time job.
2017 - the start of the climb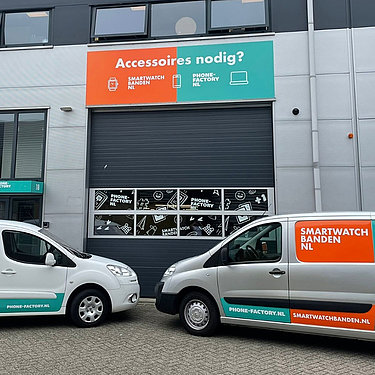 With less time to invest in the webshop, 2017 was a turning point for Phone-Factory.nl. Many companies were in a similar position and didn't survive a phase such as this. Luckily, Bart and Jan Willem decided to bring Jeffrey to the team. With a new team member, a growing product range, and increasing sales, the company grew faster than ever.
As you can imagine, a growing company soon outgrew the first office (Bart's bedroom), and it was time to realize their dreams and take the next step: a very-own office.
Over the following years, this upward trajectory would continue. Phone-Factory.nl kept growing its product range and sales, becoming one of the major players in its segment in the Netherlands. But why stop there? The Netherlands is a great ecommerce market, but there are many more people to sell to across borders.
With this vision in mind, the company set out to grow internationally.
Going international
Expanding across borders can be challenging, especially when you're running your own business and don't have the time to do extensive research into local preferences such as payment methods or shipping methods. This is where a growth partner can help you take the next step. Phone-Factory.nl came to us with their goal of expanding abroad, and we love ambitious proposals, so of course, we were there to help.
First stop: Belgium & DACH
Belgium is always a good first step internationally for Dutch companies. Most of Belgium can read Dutch, and many payment preferences are similar, leading to a reasonably simple expansion. Phone-Factory.nl was already active in Belgium when they approached us, so it was up to us to help them take on the next challenge: the DACH countries. With the help of MultiSafepay, Phone-Factory.nl quickly set up the checkout for their local phone cover and smartwatch band webshops to create the right payment experience for the DACH region, matching the local consumer's needs. Smart solutions make all the difference; for example, when people from Austria visit Phone-Factory.nl's German website, they are presented with eps-Überweisung. If German shoppers are on the site, they don't see this payment method. These smart adjustments help Phone-Factory.nl create a local checkout without manual work - which is vital for a successful, manageable expansion.
On to France!
Not long after, Phone-Factory.nl's French localizations of their phone cover and smartwatch band shops were ready to go. Once again, knowing what the local markets want and giving them that has been key. Running on a platform that can accommodate your growth ambitions is essential to success. Phone-Factory.nl currently runs on Lightspeed, which is well-known as a flexible ecommerce platform.
Let's look at the French payment experience: Payments by credit card are still one of the dominant payment methods in France. So, how do you ensure your checkout works well with French customers?
First, always ensure credit cards are at the top of the checkout (scrolling down to find the correct payment method is unnecessary friction). But France uses Cartes Bancaires, a local variant of popular international cards, so does that mean you have to do many tweaks and customizations to have a good local checkout? And do you need to do this for every country?
Luckily, the answer to that question is no. That's where our innovations come into play. By creating a responsive, embedded credit card gateway, we detect where the consumer is shopping from, giving them the checkout that matches their country. We detect which card number is being entered for credit cards and display the right brand. This instant recognition makes consumers trust that they're paying correctly and boosts the checkout conversion. This is the same technology we use for Austrian consumers to show them eps (as mentioned earlier).
We specialize in local payment preferences. Whether that's knowing what payment methods locals use, or the method of integration, we always try to match our offering to the local customs."

Jasper Bos

Business Development Manager @ MultiSafepay
Rapid developments
The speed at which Phone-Factory.nl has expanded across Europe is truly staggering. Within one year, Phone-Factory.nl has become active in Germany, Austria, Switzerland, France, and Spain - and is already doing business successfully in these countries. With their ambition and the approach that Phone-Factory.nl has taken, we from MultiSafepay are not surprised at all to see them do so well and are happy to be their chosen partner for growth.
Dedicated partners make all the difference
As Bart says: "The real difference with MultiSafepay has been the dedicated personal service. Jasper Bos helped us onboard, and usually, after onboarding, you get forwarded to another person, but ever since we've been at MultiSafepay, he's been our go-to guy for everything we need. It helps establish short communication lines, and it's pleasant to work with."
This proved especially true with the rapid developments that Phone-Factory.nl was going through.
Our values align with those of Phone-Factory.nl, and this has led to a great partnership. Being an innovative payment partner for a company on the rise, such as Phone-Factory.nl, is exactly what we from MultiSafepay set out to do. We're happy to be on this journey with them and support their (international) growth with the latest innovations and technologies, combined with our personal touch.

---
Need help growing your business online?
Thinking of taking the next step across the borders?
Get in touch, we love talking payments.