How digital wallets enhance your online checkout
In this article, we're going to look at digital wallets - one of the key ways of creating a frictionless checkout for your customers. We'll delve deeper into what they do for your checkout and what advantages they have to offer.
Digital wallets: in short
The leading players in the digital wallet market are Apple Pay, Google Pay, AliPay, and WeChat Pay. These payment methods all store card details, allowing users to pay easily through their phones in physical and online stores. Research has shown that the use of digital wallets has gone through the roof. Research by checkout.com shows that 50% of European consumers chose to pay at least once through a digital wallet in 2020, 80% says they're planning to use one in the next 12 months, and 40% says they'll use one regularly.
With the focus on generating a streamlined user experience (across multiple devices and locations), it's no surprise that wallets are fitting in so well in this developing ecommerce landscape. The smooth integration that digital wallets allow and provide is a crucial ingredient in successful customer journeys.
With that in mind, let's look at what digital wallets do so well to earn their spot as one of the most promising payment methods on the market.
Mobile-first mindset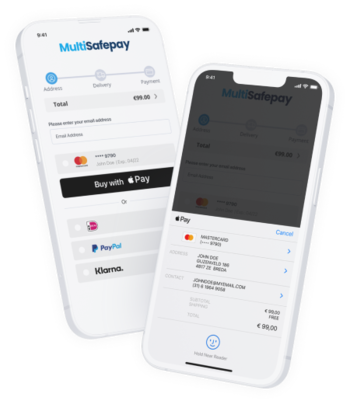 Mobile commerce has become the predominant way of online shopping worldwide. Research shows that in the US, for example, mobile commerce increased from 39.1% a couple of years ago to 72.9% in 20212.
Digital wallets are an essential tool in accommodating mobile shoppers. Suppose you spend a lot of time and money optimizing your webshop for the mobile experience but only offer payment methods that require redirects and lots of data entries. That means you're not following up on that great shopping experience you've created. Checkout friction is an absolute no-go, especially on mobile.
Digital wallets allow your customers to store key data in their wallet, such as payment and shipping information, which means they won't have to enter that when completing their purchase. Leading to an easy, fast checkout.
Direct integration
Apple and Google Pay offer an exciting integration method for your business. The so-called direct integration they offer allows your customers to purchase the product off of your product page directly. So the auto-filled data that's in the wallet will be authenticated from your product page, and the purchase will be finalized. By completely circumventing the payment stage, the shopping experience is unrivaled. This'll boost your conversion significantly and turn any customer into a returning one.
If you'd like to dive deeper into how this direct integration works exactly, our other article can help you out.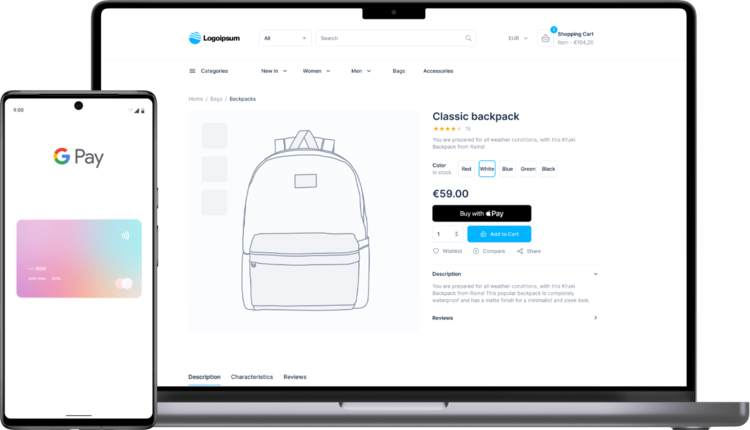 Streamline the authentication process
With card payments becoming more secure, and thus requiring more verification and authentication procedures, digital wallets provide a good alternative. 3DS 2.0 introduced a new way of authenticating payments through biometrics, a substantial upgrade over its predecessor. Although the overall consensus is that these safety checks are good, they can cause friction for shoppers through redirects and having to open their banking apps to verify, for example. Here is where digital wallets come in to tidy up and streamline the process. By integrating the authentication measures into the app/phone, the customer is not pushed into another authentication flow before finishing the purchase. This allows them to stay in-app or on the website without any redirects. This way, you ensure that your customers have a first-class shopping experience.
Minimize the declines
Perhaps a smaller issue, but one that ties into the authentication process is the actual authorization from banks themselves. While authorization rates have improved with 3DS 2.0, there's still a substantial loss of revenue due to payments being declined by the issuing bank. The integrated security that digital wallets offer is a crucial tool in minimizing these declines and will only further optimize the payment flow for your business.
User preference
Besides the advantages above, which are more technical and on the processing side of payments, digital wallets are also excellent in drawing new customers in. If users accustomed to using Apple Pay see that you're not offering the payment method, you're risking the loss of a potential customer solely because you're not offering their preferred payment method. Bigcommerce did some research, which shows that 8% of customers chose to take their business elsewhere because their payment method of preference was not offered. This research dove deeper into the top reasons why customers chose to abandon their carts.
61%: Extra costs (shipping, taxes, fees) were too high
35%: Didn't want to create an account
27%: The checkout process was too long or complicated
24%: Couldn't see or calculate total order cost up-front
22%: Reported the website had errors or crashed.
18% Didn't trust the site with their credit card information
16%: Delivery timeline was much too slow
10%: Didn't believe the returns policy to be fair or satisfactory
8%: Didn't see their preferred method of payment
5%: Their credit card was declined
The bolded reasons from that list are all reasons that are related to payment methods themselves, and digital wallets can help you overcome every one of those obstacles.

---
Looking to streamline your payment flow?
Are you a MultiSafepay merchant?
We'll look at your existing integration and see if you're eligible to integrate the pay now button.
Not with us yet?
Let's talk about your business and see how we can improve your payment mix.