Large companies like Amazon or Zalando already have their own apps, but a large number of SMEs have also expressed an interest in releasing a customized app. According to MultiSafepay nearly half of all their merchants is interested in having their own app. This is part of the reason why MultiSafepay has partnered up with JMANGO360, a platform for online entrepreneurs to easily develop their own m-commerce app at an affordable price. The first apps have already been launched.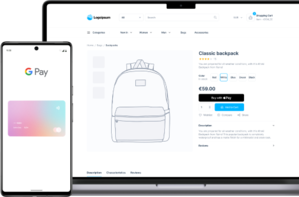 MultiSafepay continues to evolve by staying on top of the latest innovations such as perfecting fraud filters, constantly optimizing payment pages, and adding new global payment methods to the payment platform. Research conducted by MultiSafepay and JMANGO360 shows revealed that almost 50 percent of all Magento users connected to the MultiSafepay payment platform is interested in releasing a customized app.
According to Pieter Stal, MultiSafepay's Chief Commercial Officer, the decision to collaborate with JMANGO360 was an easy one: "JMANGO360, like MultiSafepay, does not merely focus on a select group of megacorporations. Their competitive pricing means their services are also available to small- and medium-sized online businesses. Creating customized apps generally takes several weeks of meticulous work and can potentially cost tens of thousands of euros. JMANGO360 offers a well-designed product for a clear monthly rate. The apps are also visually appealing." So far, the partnership between MultiSafepay and JMANGO360 has proven successful; the first m-commerce apps have already been launched.
Many online shops consider increasing loyalty of their best customers to be the main objective of a customized m-commerce app. Leo Diemel, owner of Dutch website LEDlampenkopen.nu and mutual client of MultiSafepay and JMANGO360, says his app is "brilliant" and is very happy with the "fair price": "The app has increased purchase frequency of my most loyal customers. The figures don't lie."
Dutch online shop Hip voor de Heb also has its own app since customers "had already been asking for one" according to the owner. Regular customers found the app quickly after its release: "In the first month we processed more than 50 transactions. We hadn't even promoted the app yet." Hip voor de Heb is pleased with the quality of the app, adding that their app is "much more intuitive and user-friendly" than their mobile website.
"Not every customer will install an app, generally only your best customers will", says Pieter Stal. "Across the full breadth of our customer base, however, we see that 10% of a merchant's best customers account for more than half of their turnover. If an online store can increase the purchase frequency of loyal customers by 25%, you can realize an immediate sales increase of more than 12.5%. Conclusion: apps increases customer loyaly of your best customers."
Eelco van Wijk, Chief Commercial Officer of JMANGO360, is happy with the fruitful collaboration. "Most apps of MultiSafepay clients go live within a few months, and MultiSafepay has developed the mobile payment experience in such a way that our participating online shops have high conversion rates. JMANGO360 can be linked to any PSP, but Multisafepay's mobile flows are highly advanced and they will be releasing their own SDK (Software Development Kit) in the near future. Consumers enjoy a great payment experience and conversion rates increase as a result."
Do you have any questions? Contact us.