Embedded payments: Display the payment methods your customer is looking for
Why use dynamic sorting?
Imagine a customer is looking at a product within a higher price range. Many consumers prefer to use credit in the form of credit cards or BNPL for these purchases, either for payment insurance or postponing the actual payment. If you know this, you can automatically adapt your checkout to present the most used payment methods for this form of purchase at the top of your checkout.
Implementing the right sorting will remove unnecessary options for your customers, greatly increasing the chance of them converting.
How does it work?
Without getting too technical, a customer browsing your website provides information that allows us to identify their location. This information is key in matching your checkout offering to their preferences and customs.
Besides their location, you can also choose to enable or disable specific payment methods based on their order amount or checks enabled in their account.
All these variables combined lead to a profile for your shopping consumer, providing them with a set of payment methods in the checkout that perfectly matches what they are looking for and what you are offering. The result is an improved checkout and higher conversion for you.
Let's see what that looks like:
Example 1: A Dutch consumer is proceeding to the checkout. Their current shopping cart contains items for €150, and you set the parameter to display Pay After Delivery: Installments to only show if a customer has an order value above €100.

Example 2: A Belgian consumer proceeds to your checkout with no additional parameters for order value.

Example 3: An Italian consumer proceeds to your checkout with no additional parameters for order value.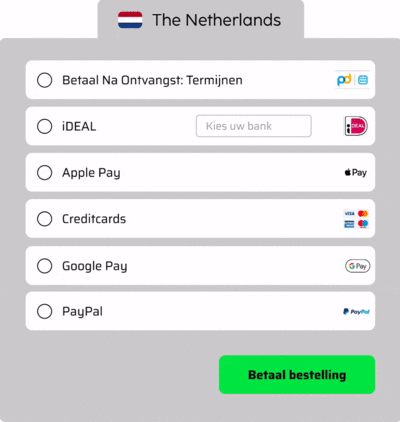 The result:
As you can see, based on location and your preferences, you can choose to show and hide payment methods but also give them different sorting mechanics. Most of this is done from our side, but you can also choose to influence this if you'd like. The image above shows what that'll look like for the payment methods displayed in your checkout.
Making sure your payment offering is well-suited to the type of consumer you're servicing creates focus by presenting the customer with the right choice for their needs, and removing options that are unnecessary. The result is less abandoned carts and more sales.
---
Ready to improve your checkout?
Our experts are happy to help you unlock your full potential.