MultiSafepay at Netcomm Forum 2023: the story (and the learnings) of a successful experience
An overview of the Netcomm Forum 2023 Edition
30,000 attendees (of which 25,000 live), more than 300 exhibitors, 175 workshops. These are the 2023 main numbers of Netcomm Forum, the biggest Italian event about ecommerce world and digital transformation.
The exhibition is more than just an Italian event: in 2023, for the first time, some experts of Ecommerce Europe joined to represent the digital trade associations of the leading European markets.
Year by year, Netcomm Forum puts together the best professionals from digital retail industries and a complete overview of the ecommerce landscape in Italy. We can say that there are no facts and no topics appeared on the local ecommerce market that Netcomm doesn't deal with!
The 2023 edition didn't forget any of the most relevant trends but omnichannel took center stage! Other hot arguments were the contribution of Artificial Intelligence to online sales, the evolution of payments and the affirmation of Buy Now, Pay Later solutions, new consumer habits and the best strategies to accommodate them.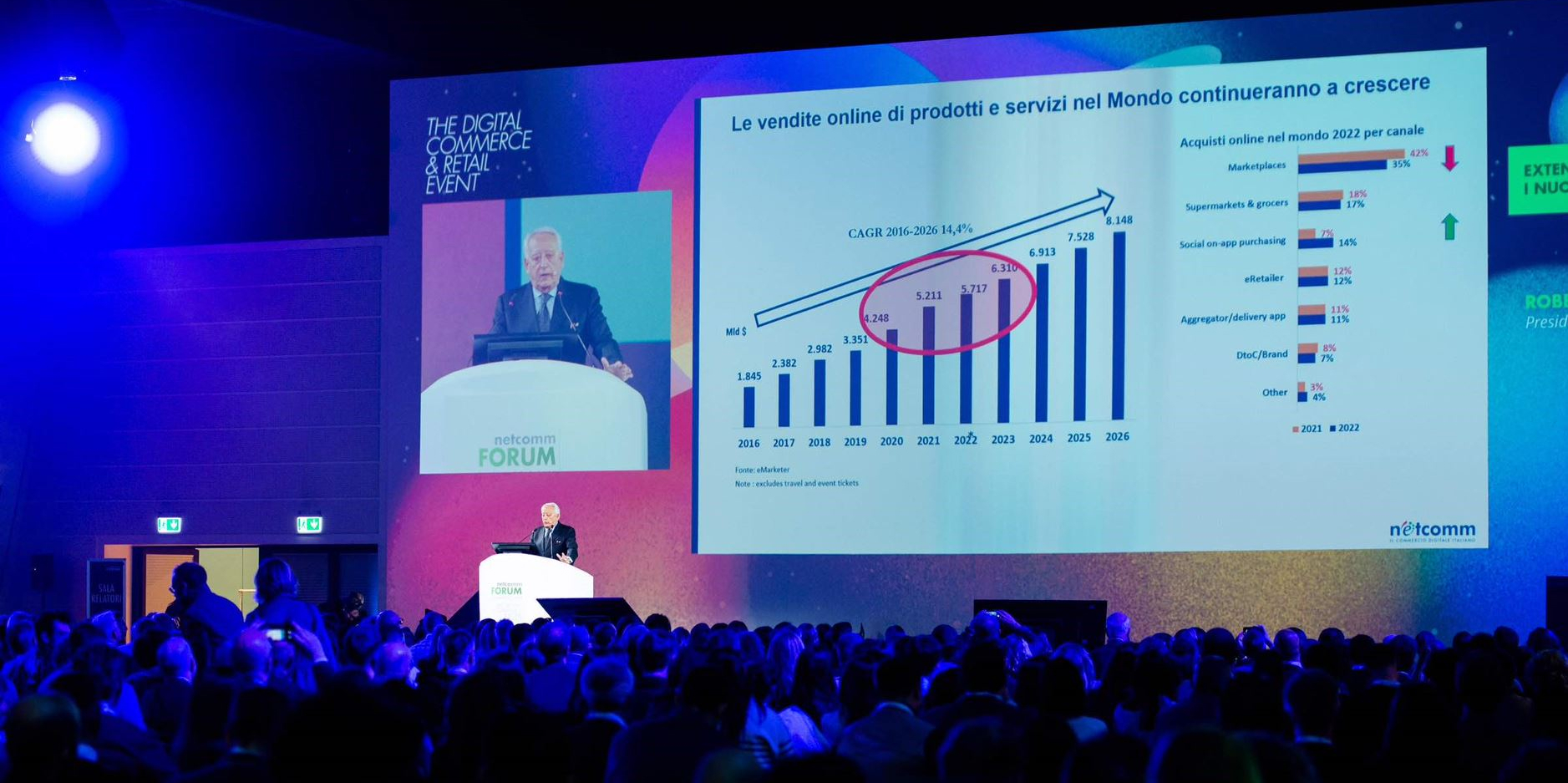 MultiSafepay at Netcomm Forum 2023: our reason why
Why were we at Netcomm as exhibitors? The first reason is the human side of the experience. It's always nice to be reachable and offer your customers all the support they need by working online, but meeting live is something else. Especially in a landscape such as the Italian one, in which professional relationships and trust rely heavily on direct knowledge.
Being at the Netcomm Forum allowed us to strengthen the relationship with our Italian customers, receiving their updates (and giving ours to them, of course), and meet new ones. It also provided a good opportunity to achieve another of our business goals: to expand our network of local partners.
Building networking through local presence always brings innumerable benefits, even and especially for the companies dealing primarily with online businesses, like we do.
What we learnt from our first experience at the Netcomm Forum as exhibitors
You can easily imagine that our first experience as exhibitors at the Netcomm Forum was a success! Not only in terms of results and new contacts but also for the learnings we got.
To name a few:
First, introducing a clear and well-defined product (and service) message focused on our Italian audience worked very well. Some of our top topics, such as 'optimization of the checkout,' 'offering +40 payment methods and +35 integrations', but also 'support in international sales' and 'ease of use and immediacy of integration' helped us to meet (and attract) the needs of this growing and always interesting market.
And that's not all: a clear proposition helped us present ourselves and highlight what we do best (and what we want to sell) in a straightforward way. None of the people who came to chat with us probably left our stand without understanding what a PSP does!
Our well-defined message also got through the visual communication that made us recognizable and quite visible. We shouldn't be the ones to say it, but the consistent image we showed by our stand set-up, gadgets, information materials, and even our outfits helped us to capture the attention and to increase our brand awareness.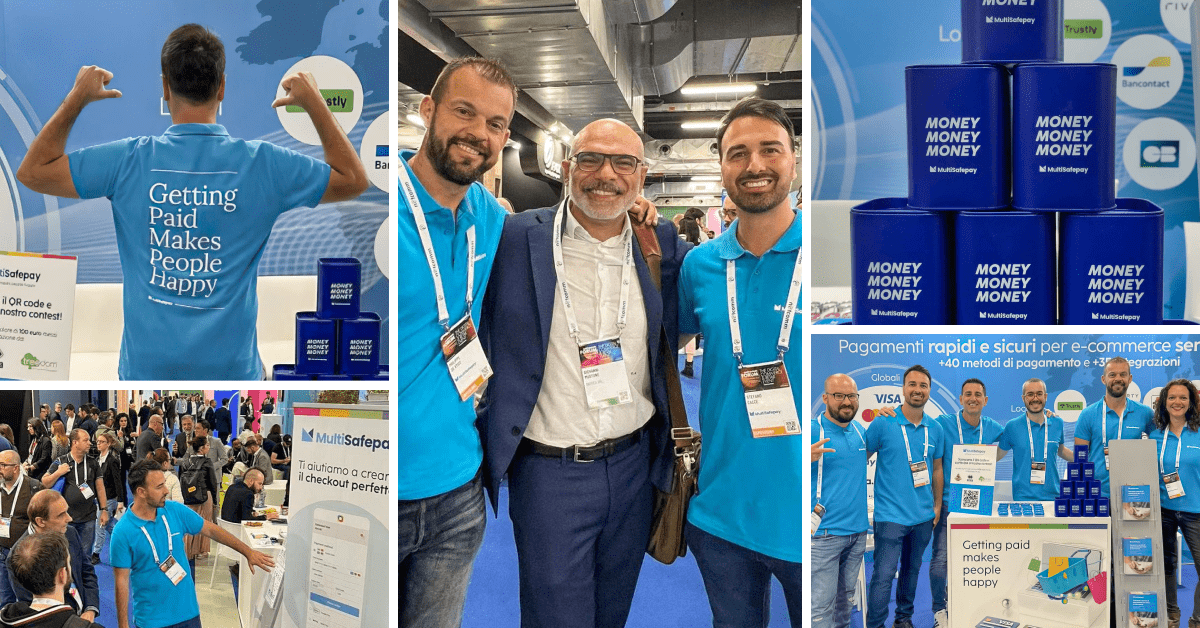 Style is never only a visual thing. We can now confirm that a proactive, friendly, and never intrusive sales approach allowed us to show the human side of MultiSafepay and to be proud testimonials of the company's mood. It is the same mood, and the same approach as well, that allows us to build strong and lasting relationships with our customers day after day. Our secret? To follow them step-by-step in their growth, providing them with new and cutting-edge products and solutions, timely support when needed, and continuous assistance in the face of small and big daily challenges.
We also had room for a nice announcement: our new offer for omnichannel payments. We introduced our platform that allows customers to make their payments how and where they want and merchants to manage all their touchpoints (and simplify many business processes) with a single hub. A brand-new offer, which we have already launched in Belgium and in the Netherlands and will soon be available for Italian and Spanish merchants too.
We realized that international events, such as the Netcomm Forum, also provide with relevant opportunities for personal and professional growth. Meeting with merchants, potential customers, partners, and competitors is of course enriching from the human side. It also helps to take a deeper look at what is out there, especially at the dynamics and new trends of the local market.
A more than positive balance, for sure. But we are aware that any experience, no matter how successful, always has room for improvement. So, we are ready to catch all the opportunities (and challenges) related to Netcomm 2023 to prepare the best way for the next edition.
To the many people who came by our stand goes our warmest thank you for every second of their attention. We will certainly see you again next year!
Interested in discovering our payment solutions to optimize your checkout and increase conversions? Or perhaps in getting a preview of what we will present at our following events? Contact our Sales experts, we will happily reply to all your questions!