Elevate your checkout through the MultiSafepay PrestaShop integration
That's exactly where our PrestaShop integration comes in. Providing your business the tools and features it needs to offer your potential customers a sleek, well-designed checkout.
How we streamline your payment experience
Offer the right payment methods
The base of all successful ecommerce integrations: the payment methods. Our integration offers you a wide variety of domestic and international payment methods. This provides you with access to key payment methods such as iDeal, Mastercard or Visa, but also trending payment methods such as Apple Pay or Google Pay.
Keep your customers on-site
Offering a smooth payment experience means taking away barriers and hindrances. Through our embedded credit card components, you'll be able to fully integrate the credit card payment experience in your checkout. This allows you to keep them on your website for the entire checkout. Not sending the customer to a different website for verification is a key way of boosting your conversion.
Recover lost profits
Fighting cart abandonment rate is a key aspect of generating revenue. Our Second Chance feature does just that. If one of your potential customers leaves your website with items in their cart, they will be reminded through a fully customizable Second Chance email. This email will give you another shot at convincing them to complete their purchase.
Second Chance emails are a proven method, with an average open rate of 42% and an average click rate of around 10%, businesses who employ these emails are able to recover around 3-5% of their abandoned carts. 2
Facilitate repeat purchases
Through tokenization, we encrypt and protect your customers' sensitive payment data. This encrypted data can then be employed to create swift, one-click purchases for your customers during their next visit(s) or, if permission has been granted, can be used for transactions initiated by you (such as topping up balances or monthly subscriptions).
Creating a smooth backend experience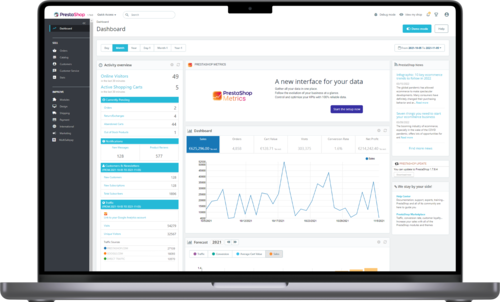 Managing your orders and payments from your backend needs to be simple, yet allow for a wide variety of features. Preferably allowing you to take care of many of your business processes through one channel.
In order to accommodate this, we've ensured you're able to manage your orders fully from your PrestaShop backend.
Shipping
If the payment has been processed and you want to send out your order, you'll be able to switch the order status easily and send your order to your customer. You can cut down on your management time and improve your workflow by sending directly from the PrestaShop backend.
Refunds
You want to spend as little time as possible on refunds. To improve the quality of life of our users, we've integrated the refunding process completely into our payment plugin. Save valuable time by managing and reviewing your refunds without having to visit an external dashboard or service.
Built by us, for you
Our PrestaShop is built in-house by our team of MultiSafepay developers. Keeping our developers in-house allows us to stay nimble and adapt to payment trends on the market, as well as requests and input from our partners.
Working together with us will allow you to actively influence your payment plugin. If you're thinking of future solutions or features, we'd love to hear from you.
We truly believe that by working together, we can create a product that will elevate your business.
---
Want to see what we can do for you? Let's talk.
Whether you're curious about some of our features, or want to find out more about what we can achieve together. We're happy to talk to you.
Contact us Learn more