PWA (Progressive Web App) is the latest technological development aimed to reach mobile customers. After mobile websites, dedicated apps, and responsive websites PWA's are the next big thing. Eleganza, specialized in selling shoes & clothing by top-designer brands, is one of the initial webshops to have started implementing PWA technology! We are very excited to be partnered with Experius who took the lead in developing the PWA and to Eleganza for getting aboard the PWA revolution! We are proud to provide the payment services for Eleganza's fully functioning PWA!
Progressive Web Apps
It's an argument that has been around for decades, what's better – mobile web or mobile app. In 2018, the number of people who access the internet via their mobile device passed 61.2%. Making it all to clear that you need to provide people a great mobile experience. With the arrival of Progressive Web Apps there are now many options to provide consumers a mobile experience. Native apps, webview based apps, responsive websites, which should a business choose? How can you provide your consumers a reliable, fast and engaging user experience?
So what is a PWA? Essentially, a PWA is a responsive website with added functionality to make it serve as a native mobile application. The main difference in user experience for years between applications and websites was the ability to use push notifications in the communication between brands and users and to provide offline experiences. With PWA these two become available for websites.
Experius
Experius is an e-commerce agency specialized in developing Magento webshops and MultiSafepay partner. Not too long ago, fashion retailer Eleganza commissioned experius to create a PWA solution for their webshop. With this development experius has put a flag on their achievement, as they are the first Dutch agency that launched a PWA using Magento's PWA Studio! "Alongside it's lightning fast user experience, the webshop is perfectly aligned to the look & feel of Eleganza and fully meets their demands," says Jordan Eisenburger, PWA specialist at Experius. "Our dedicated PWA team worked with MultiSafepay and Orange Valley, among others, and the results are impressive".
Impressive indeed, the launch of Eleganza's PWA was successfully executed by experius within only 3 months. As a result, Eleganza is able to conduct their online business profiting of the many benefits a PWA brings forth:
Higher user engagement
Improved customer experience
Tightly knit user experience
Easier app management
User notifications for re-engaging users
Store listing in Play Store/App Store (more publicity)
Lightning fast navigation through webshop
Offline usage
While several PWA websites and webshops have already gone live in the Netherlands, these are based on a different technology. Magento PWA Studio only became available in 2019 and both MultiSafepay and Experius have started adopting the technology to their solutions.
Eleganza
Eleganza is a fashion retailer which opened its first store in 1981 in Hilversum (NL). They survived the digital revolution with flying colors and currently hold four physical shops and a webshop featuring a portfolio of luxury designer brands. Past year, Eleganza had to make a decision many online stores went through: Migrate to Magento 2 or choose a different platform?
All things considered it felt like the right move for Eleganza to migrate to Magento 2. In addition, with the arrival of the new and promising PWA technology, Eleganza decided to hop aboard the PWA bandwagon with a Magento PWA webshop. Guus van de Staak, e-commerce manager at Eleganza explains:
The primary reason to switch to a PWA was the way it allows us to offer a much-improved customer experience and a high-speed webshop, the reduced pressure on the server was an important bonus!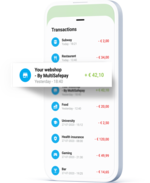 As the PWA offers an app-like experience, there is no longer any need for Eleganza to host an additional app. With the migration to PWA, MultiSafepay needed to implement a new plugin and payment connection which was compatible with PWA technology.
The Challenge
Simply put, when running a webshop on a PWA, the frontend and backend of the webshop function separately. Whereas, normal ecommerce stores have their frontend and backend running within the same unit.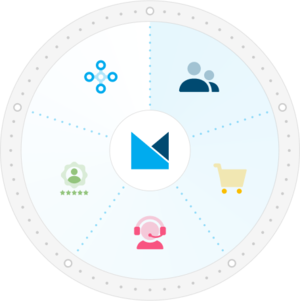 As a result, it became more challenging to successfully create a payment connection between the payment environment and the webshop. In particular, the challenge for MultiSafepay was to create an integration that communicated smoothly with the frontend and backend of the new webshop. Our developers, in collaboration with Experius, therefore created a custom solution to meet the expectations of Eleganza and Experius. As of now, MultiSafepay's plugin is able to communicate with the PWA frontend and backend at the same time.
MultiSafepay and PWA
Since version 2.3 Magento has been offering a PWA solution named 'PWA Studio'. This is particularly appealing to Magento users as they can trust the same platform to provide both backend and frontend solutions. The PWA technology is still rather new and only a handful of online shops are already implementing it. That is why, if you are interested in obtaining PWA technology, going for an already experienced company like Experius would be the way to go. MultiSafepay is also experienced in using Vue StoreFront and will soon start publishing new components for React and Vue on our Github.
---
Would you like to implement a PWA webshop or do you have any questions?
See our contact details
or arrange a call back via +31 (0)20 850 0500
---