MultiSafepay has integrated Trustly as a payment method to its range of products. Founded in 2008, Trustly is a rapidly growing payment method with coverage in a lot of different countries. Trustly is a European FinTech company providing fast, simple and safe online banking payment solutions. In 2017 and 2018, the Financial Times ranked Trustly as one of the fastest growing companies in Europe on the FT1000 list and the London Stock Exchange recognized Trustly as one of Europe's most inspiring, fast-growing companies. Right now, Trustly has 240 employees and headquartered in Stockholm, with regional offices in Finland, Spain, Malta, Germany and the UK.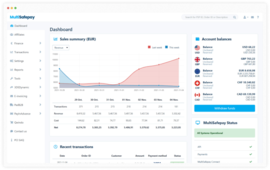 Today's consumers expect instant gratification, any delay would impact the user experience and diminish customer satisfaction. Trustly allows online consumers to initialize a transaction without lengthy registration processes or waiting times for withdrawals. That is why Trustly fulfills the user's need for simplicity, speed and security in every way. It allows for instant confirmations of purchase, allowing merchants to serve their customers faster. Trustly's intelligent gateway technology allows for instant confirmation of purchases, in this way they are able to provide:
same day shipping
instant top ups (adding funds to your balance instantly)
and fast automated refunds
Furthermore, Trustly's automation of the process reduces administration costs; making it a fast, simple and secure way for Scandinavian consumers to pay directly from their banking environment. All these wonderful features add up to Trustly being a tremendous expansion to your checkout!
If you want to add Trustly to your online checkout you can request the payment method by contacting us. Trustly will perform a small check, after which the merchant will receive his/her own connection number. Finally, the Trustly gateway will be enabled and payments can be processed. Funds will be made available in your own MultiSafepay Control.
---
| Want to get started with Trustly or you have questions on the integration possibilities? | Or arrange a call back at +31 (0)20 850 0500 |
| --- | --- |
---