Take control of your invoicing
Control communications, invoice your payments and be on top of your transaction statuses at all times, all through one single connection
E-Invoicing is our very own, in-house developed solution for payment management. Giving you the tools to establish your own dynamic payment timelines. Easily integrated, and managed, in your MultiSafepay Control environment. E-Invoicing is the most flexible and customer friendly ecommerce payment solution, designed for the B2B market.
Whatever and wherever your market is, our E-Invoicing tool will allow you to automate your payments.
Increase your payment conversion
MultiSafepay offers an extensive payment mix, fully supporting over 30 global payment methods. Among these payment methods you'll find cutting-edge innovations such as Tokenization, various recurring payment models, digital wallets and in-house developed payment methods leveraging Open Banking principles. By utilizing E-Invoicing for your payments, you'll give your customers access to the entire range of payment methods in the MultiSafepay payment mix.
Offer the right payment method, to the right customer and facilitate their payment process.
Elevate your invoicing processes
Adding specific rules and incentives to your invoice structure is an essential tool in order to offer your clients the best payment solution possible. Adding these rules and incentives is often a timely process, requiring manual actions and checks. By using our E-Invoicing product, you can completely avoid this tedious process and add your custom incentives quickly through our intuitive user interface.
Improve your working capital by reducing the average time of outstanding invoices through our smart solutions.
Eliminate manual errors
Our E-Invoicing software can be directly integrated into your accounting and data systems. By updating payment data in real time, you'll be able to enjoy a more accurate, consistent reporting system, resulting in a reduced risk for potential errors.
Not to mention the fact that your business can easily scale up without increasing the work required to keep data across your accounting systems synchronised. Our transaction-based reconciliation gives you real-time insight into the payment status of your customers, enabling you business to grow and prosper.
Automate, eliminate manual errors and handle intricate billing situations.
Your invoicing, your style
One of the features of our E-Invoicing tool is the fact that you can customize the communications sent to your clients, ensuring your corporate identity shines through. Communication methods include: letters, text messages and emails, with whatsapp being added soon. On top of that, we can communicate directly from your domain, email or phone number, ensuring optimal trustworthiness.
Our E-Invoicing will allow you to activate 'status listeners', in the case of a communication by email not being delivered, the next communication will be automatically switched over to SMS, to give an example.
Create your own dynamic payment flow
Easily managed through drag & drop - low code setup
Our E-Invoicing configuration has been built with one goal in mind; creating the most user-friendly environment for you to completely customize and establish your own payment journeys. By leveraging the power of machine learning, the payments infrastructure is extremely flexible, providing you with a payment model that's able to handle multiple differentiated flows at the same time.
What does this mean for you?
Throughout your invoicing journey, you'll have several nodes (junctions or interactions), you'll be able to add conditional actions to each one of these nodes.
To give an example of these conditional actions; you can offer your customer a discount if they pay within a couple of days after the invoice has been issued. The discount amount can vary based on the conditions and when the customer actually pays. With the discount you can improve your cash flow earlier and reduce the risk of the customer defaulting over time. This approach will also allow you to instantly switch between communication methods - is the email address incorrect and has the message bounced? Switch over to SMS in order to still communicate with your customer.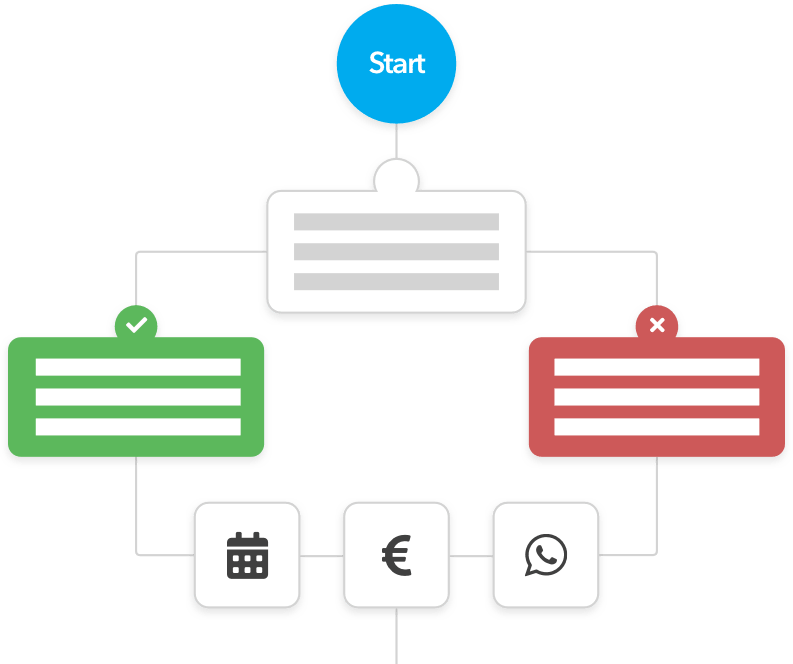 How does it work?
By using a drag and drop interface, we've been able to create an environment where you can fill in your payment timeline completely by yourself, or use a template already created by us. Whichever one you choose, you're in control. All through an easy-to-use, no-code setup.