01/28/2016 Created by Kyara Hartong
E-Commerce is booming and many changes and innovations have been introduced over the past decade. As technology evolves and consumer demands grow, ecommerce continues to change at a quicker pace. We have listed a number of pointers to help you navigate the e-commerce landscape of 2016.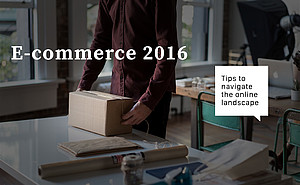 The importance of loyalty programs
Loyalty programs are an essential marketing strategy designed to help you keep customers and build a loyal network of your customers. Not only that, but acquiring new customers is much more costly than selling products and services to an existing customer. There are, however, several strategies for loyalty programs.
The trick is to develop a loyalty program that works for your business. One of the more popular approaches is to create a point system, whereby frequent customers earn points that can be redeemed in the form of a discount, a free product, etc. Another strategy is to charge an additional fee for special benefits, i.e. a one-time (annual) fee which buys a customer special treatment. Amazon, for example, offers Amazon Prime which buys a customer two-day shipping without a minimum purchase value.
Whatever your approach, make sure the loyalty program you implement is straightforward and not unnecessarily complicated. Your loyal customers will thank you for it.
Minimize the number of abandoned shopping carts
According to results published in an international study by British company Sale Cycle in the first half of 2015, cart abandonment peaked at a staggering 75.6% across retail, travel, and fashion websites. In most cases, the cart abandonment was due to so-called 'sticker shock', i.e. the shock of seeing the total amount due after additional (shipping) fees have been added to the total value of the intended order. This demonstrates the importance of a straightforward shipping process and clarity about prices. Customers are generally more than willing to pay for their orders and additional fees, but tend to abandon their shopping carts if they are taken by surprise.
The 'sticker shock' is not the only reason for shopping cart abandonment. In other cases, a customer may be pressed for time or he/she does not have her payment details handy. MultiSafepay tools such as Second Chance can help you recover these abandoned transactions and increase your revenue.
The rapid rise of mobile transactions
According to recent study, over a third of browser-based transactions in 2015 was completed on a mobile device. About 30% of all transactions processed by MultiSafepay are also completed on a smart phone or tablet. A mobile responsive payment process and website is crucial not only as part of a sound SEO strategy, but also to ensure an excellent customer experience. Read more about MultiSafepay mobile payment solutions on our website.
Be prepared for the holiday season – even now
The holiday season is just behind us, but it is worth mentioning as it is the most profitable time of the year for online sales. As pointed out in our previous newsletter, the holiday season is the busiest time of the year and the best time to increase sales dramatically on your website. Shopping days like Cyber Monday will heavily contribute to your earnings. An increasing number of consumers are opting to shop for presents from the comfort of their own home, which means that more money is spent every year. This is definitely a golden opportunity to increase sales, so be prepared for it well in advance.
The e-commerce landscape is changing, and it is changing fast. It is more important than ever to keep on re-thinking your marketing and sales strategies in order to keep up. The days of simply listing a product for sale online are long gone. Technological innovations, a larger focus on the customer journey, and the rise of handheld devices have changed the landscape significantly. To remain successful in the online industry is to keep up with these changes.